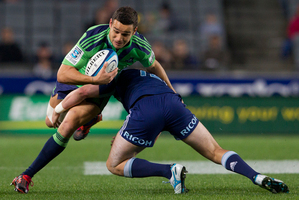 Players saying no to the All Blacks are rare, especially in the professional era.
There have been some on the fringe who have decided to take a different path - recent examples are Highlanders midfielder Tamati Ellison, who would have been involved with the All Blacks this year but decided instead to play in Japan, and Hurricanes wing Alapati Leiua, who wanted to align himself with Samoa.
Brad Thorn is probably the most high-profile player before Rene Ranger excused himself from selection to spend time with his family before heading to Montpellier, France.
In 2001 Thorn had only just consolidated himself as a rugby player at Canterbury and the Crusaders after moving from the Brisbane Broncos in the NRL.
He struggled at No8 but was finding a niche as a lock before deciding to take a complete break from rugby in 2002.
That meant saying no to Wayne Smith for the All Blacks' end-of-year tour of 2001. It made huge waves at the time, but Thorn had no regrets.
He would say later: "I was signed as a 17-year-old at high school. I started getting paid a wage in high school. All I'd known was my footie, and '02 showed me that there was a world outside footie ..."
In the amateur era there were plenty of cases of All Blacks - many of whom were farmers - being unavailable for tests because of work commitments.
But two of the most prominent incumbent players to say no to the All Blacks were Graham Mourie and Bruce Robertson, who refused to play the Springboks in New Zealand in 1981. To complicate matters, flanker Mourie was the captain at the time.
Robertson had toured South Africa as a player under the apartheid regime and said later he was "embittered by the experience".
For Mourie it was also a matter of conscience. He said later: "It's also an issue of being in a position of leadership. Leadership doesn't necessarily imply being popular. Leadership in my mind is making the right decisions."APNZ
- APNZ