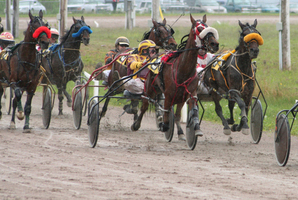 Barry Purdon's Breeders Crown campaign couldn't be going much better.
While the business end of the mega-rich Victorian series has yet to start, everything is so far going right for Purdon's three-pronged team.
The roll started when Cheer The Lady, last season's shock 3-year-old fillies' winner, thrashed her opponents at Melton last Friday night on her way to a heat of the 4-year-old division this Sunday. More importantly, Purdon's group one winning pair of juvenile pacers have secured ideal barriers in their semifinals at Ballarat on Saturday night.
Harness Jewels winner Sky Major has crucially drawn the ace in his clash with Australia's best young pacer Lettucerockthem.
Stablemate Maxim, who won the Sires' Stakes in May, has a front-line draw against another NSW gun in Bling It On earlier in the night.
While they will both come in for plenty of punter support, the two biggest New Zealand names in the series have drawn the same semi- final, a race sure to confuse bookies.
Border Control and Bit Of A Legend will continue their personal war in the 2200m event, even though Harness Racing Victoria officials must have been tempted to split the pair before the final eight days later.
Bit Of A Legend has used more economical trips to nose out Border Control in the NZ Derby and the 1:50.6 record-run Harness Jewels and has drawn inside his arch rival again.
Meanwhile, regular driver Maurice McKendry has been confirmed to drive the series' late inclusion Besotted in his heat of the 4-year-old male pacing division at Melton on Sunday.
Other Kiwis in the ABC include Safedra, Te Amo Bromac and Ideal Scott, as well as trotters One Over Da Moon, Daenerys Targaryen and Quite A Moment.