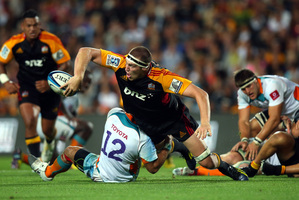 A New Zealand brain expert has raised questions about the claimed link between rugby head injuries and early-onset dementia after one case was found.
"If you are dealing with one case, the question is, was he a rugby player who got into a few fights outside rugby?" said Neurological Foundation medical adviser Dr Jon Simcock.
A sportsperson's whole history of head injuries needed to be known - within and outside sport - if a link was to be made to dementia, he said.
A Herald series on concussion in rugby last year reported concerns that players were downplaying symptoms of concussion so they could continue playing - and that the Rugby Union was training coaches on the serious risks of concussion.
The BBC reported that British neuro-pathologist Dr Willie Stewart, of the Southern General Hospital in Glasgow, believed he had discovered the first confirmed case of early-onset dementia caused by playing rugby.
The finding drew on analysis of brain tissue from a former rugby player aged in his 50s. It contained higher levels of certain abnormal proteins - which are associated with head injuries and dementia - than a boxer who had been diagnosed with a type of dementia known as punch-drunk syndrome.
The syndrome is thought to affect up to 20 per cent of boxers who have had long careers. Symptoms usually appear after 12-16 years of boxing and can include tremors and problems with speech, memory, personality and co-ordination.
Dr Stewart said the former rugby player had a number of the abnormal proteins in a section of his brain which was comparable to a young man who had suffered a moderate to severe head injury in an assault.
He was unable to state accurately what proportion of rugby players might be affected, telling the BBC it would be small but not zero.
Dr Simcock said early-onset dementia had been well described in American football, "by going into the [the affected players'] history in some detail and looking at the brain" and this kind of investigation was needed to make the same link to rugby.
"It's a different order of injury they get [in American football]. Not many All Blacks are laid out cold; Conrad Smith was one of the few."
Dr Simcock said that, based on the information made public about the death last month of Auckland club rugby player Willie Halaifonua, 27 - who collapsed from a brain bleed following a match in which he had two head knocks - "that isn't concussion. That's something different, that's torn a blood vessel and we don't know details of whether he had any predisposing abnormality of the blood vessels."
Mr Halaifonua's death has been referred to a coroner.
"Concussion is bad news," Dr Simcock said, "but ... only for a pretty small number of people.
"Most school children who get knocks on the head and get a bit dizzy or a headache or have an episode of vomiting, they are pretty well right by Monday and I don't think that does much harm.
"They get over it very quickly. One episode a year is not ... going to make any difference. But if someone takes a week to get over it, that is bad news."