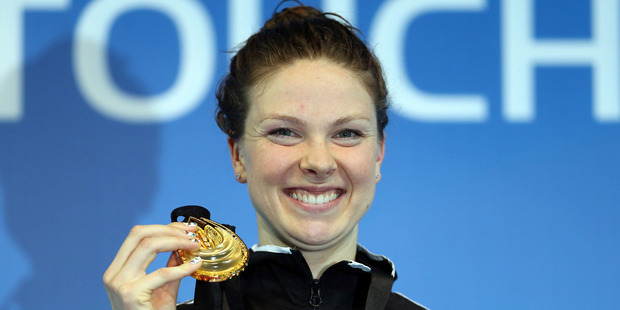 Lauren Boyle's three world championship bronze medals have been a lifeline for Swimming New Zealand and have sprouted an independent streak in the country's best swimmer.
In the months leading to the Barcelona meet, Boyle acknowledged she had to look deep within after her former coach Mark Regan's contract was not renewed in January. The result is she returned to the pool mentally stronger and committed to making the podium.
Boyle's medals are the first for New Zealand at a world championships in 19 years after Danyon Loader's three in 1994. Boyle's 400m, 800m and 1500m freestyle efforts took the country's tally to eight from four athletes - Anthony Mosse and Gary Hurring being the others - in the 40 years the meet has existed.
Almost single-handedly Boyle has helped guarantee funding beyond the $1.4 million which came via High Performance Sport New Zealand this year, although Gareth Kean in the 100m backstroke and Glenn Snyders in the non-Olympic 50m breaststroke also made finals.
"I'm just thrilled to have finally made the podium," Boyle said. "I've had to take control of my own destiny the last few months after losing [the services] of Mark. I had to remove any lack of trust in what I was doing. It was hard not to be thinking of solutions to all the problems I was facing after Mark's exit, so in the end I just focused on the event."
Boyle set personal bests and national records in the 800m and non-Olympic 1500m events and got within 0.26s in the 400m. Gold medallist Katie Ledecky broke Rebecca Adlington's world record in the 800m final, holding off Lotte Friis. Ledecky also set a world record in the 1500m. In the 400m, Boyle held off Camille Muffat, the Olympic gold medallist. Boyle said contrary to the trend for fields to weaken in post-Olympic year, she felt hers had improved.
"That makes me happier because it means they're stronger results than they appear."
Boyle said the high performance environment within SNZ, where they went for an eight-week build-up camp in Spain initiated by new high performance director (and Spaniard) Luis Villanueva, had been good. It had allowed her to go into the event fresh but settled.
The results have spurred Boyle on to contest the Rio de Janeiro Olympics despite the fact she will be 28, which is getting on in swimming terms. Her next focus will be the Commonwealth Games.
After the 400m freestyle bronze, SNZ chief executive Christian Renford acknowledged Boyle's place in their programme.
"Lauren is vital, the jewel in the crown," Renford said. "She's a wonderful ambassador for our sport and if we continue to produce people like her we will be in good stead. But it's unfair to rely solely on her.
"We need to show it's not good enough to simply qualify for the Olympic Games or world championships. You have to perform on that world stage. [A lack of] money also can't be used an excuse."