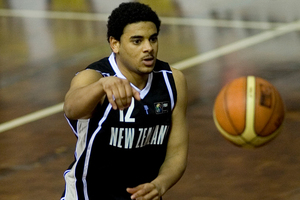 Guard Corey Webster led the Tall Blacks with 16 points, as they ended their eight-game China tour with an 83-70 win over the local Liaoning club side at Zhongshan.
A pair of three-pointers from Webster late in the third quarter helped extract the Kiwis from their rivals' grasp, after they had seen a 13-point lead dwindle to just two soon after halftime.
New Zealand jumped on their opponents early with 15 unanswered points on the way to a 21-13 first-quarter advantage.
Liaoning did a good job of limiting inside scoring opportunities in the second period and although the Tall Blacks slotted five three-pointers during that spell, the Chinese were able to cut the lead back to four points at the break and within a basket soon after.
A seven-point run gave them some breathing room and an 11-2 outburst down the stretch saw the margin extend out to 17 points, before coach Nenad Vucinic put his five rookies - Izayah Mauriohooho Le'afa, Brooke Ruscoe, Reuben Te Rangi, Jordan Ngatai and Jack Salt - on the floor to finish the contest and the tour.
Vukona (12 points), Salt (10) and BJ Anthony (10) also scored in double figures.
The Tall Blacks will return to New Zealand tomorrow and disband for a few days, before re-assembling to prepare for the home-and-away FIBA Oceania Championship series against Australia, beginning at the North Shore Events Centre on August 14.
New Zealand 83 (Corey Webster 16, Mika Vukona 12, Jack Salt 10, BJ Anthony 10, Rueben Te Rangi 9, Casey Frank 9, Jarrod Kenny 6, Everard Bartlett 6, Brook Ruscoe 3, Jordan Ngatai 2) Liaoning 70