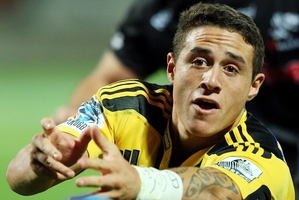 The young colt is now ready for his first start.
Last year, TJ Perenara was arguably the form halfback of the Super rugby competition but at only 20 years old, was deemed too young for All Black honours by coach Steve Hansen.
"I know everyone's excited about him because we are, but you don't take, if you use horse racing terminology, a 2-year-old and start him in the Melbourne Cup do you?" Hansen said in May last year to explain why Perenara was not named in the All Blacks' wider training group.
"He's just a young 2-year-old, he's just a colt and we don't need to rush him. I do [know a bit about horses] and I know a bit about players. We'll do what's right by him and the All Blacks."
Fast forward 14 months, a badly broken ankle, another Super rugby campaign under his belt and Perenara is set to become All Black No1124 during the forthcoming Rugby Championship after he was named in a 28-strong New Zealand squad yesterday.
The Mana College product, who first played for Wellington as a schoolboy in 2010, was one of three halfbacks named alongside Aaron Smith and Tawera Kerr-Barlow as Piri Weepu was shown the door. Perenara said he had had a congratulatory message from the Blues No9.
"Ideally I would have loved to have been picked in the squad with him," Perenara said of Weepu. "He's been a huge mentor for me throughout my career and he definitely will continue to be. He's also a great mate of mine."
Weepu, who at 29 could now be at a career crossroads, congratulated Perenara on his selection via Twitter and let his fans know he would not be giving up.
"Thanks for the messages of support tweeps!! Always tough, but that's what makes you fight for it even more!! #GottaWork #NewChallenges," Weepu tweeted.
Weepu will turn out for Auckland in this year's ITM Cup but it is now Perenara's time to make his mark on rugby's big stage.
"Making the squad's one thing but getting out on that field is a completely other thing. But playing would be a huge thing that I'm looking forward to and hopefully experiencing," the rookie said.
Perenara said he found out about his rise to the All Blacks via Twitter.
"I actually was on my way to the gym and I got a tweet notification with someone saying 'congrats' and then I didn't really believe them; I had to look on the net and saw it on there."
The All Blacks assemble in Wellington this week where they will play a practice match against Canterbury and Wellington selection sides in Lower Hutt on Friday before opening the Rugby Championship against the Wallabies in Sydney on August 17. APNZ
- APNZ