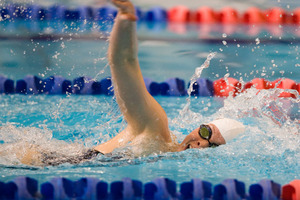 Lauren Boyle has joined the great Danyon Loader as the most successful New Zealander swimmer at the Fina world championships.
The 25-year-old earned her third bronze medal in a superb performance in the women's 800m freestyle, won in a world record by American teenager Katie Ledecky in 8:13.86 in Barcelona today.
Boyle clocked 8:18.58, to take a further 1.5 seconds off the New Zealand record she set in the heats, a reduction of more than four seconds overall on the national record she recorded at the London Olympics.
"I was so nervous. It was such a surprise for me to do so well in the 1500m and even the 400, so coming into this race I wanted to do well so I was really nervous,'' Boyle said.
"I was shocked that I was keeping up with Katie (Ledecky) so I was really happy. In this race I was quite surprised to be with them still halfway through.''
It was a new Oceania record, giving Boyle two New Zealand and Oceania records in the 800m freestyle and 1500m freestyle and becoming the only New Zealand swimmer to hold a current Commonwealth long course record (1500m freestyle).
"I am so surprised and happy to win three medals. I really wanted to get one medal so I am thrilled with three. They are all bronzes but I am still really happy.''
Boyle's third medal of the world championships emulates the deeds of Loader, who won three medals at the 1994 world championships - a silver medal and two bronze.
New Zealand has only won eight medals in the 40-year history of the world championships with the others achieved by Anthony Mosse with a silver medal in Madrid in 1986 and current Swimming New Zealand coach Gary Hurring with a silver in Berlin in 1978.
In today's 800m freestyle, Boyle went with the early pace set by two-time world champion and Olympic medallist Lotte Friis, who was matched by the remarkable Ledecky. The trio went through the 100m under the one minute mark.
The New Zealander went through the 200m in 2:01 and halfway mark in 4:07 before Friis and Ledecky moved away slightly. Boyle continued to reel off 31 seconds for each 50m, lifting herself to be well clear in third place behind the world record 8:13.86 from the young American, with Friis second in 8:16.32 ahead of the closing Kiwi in 8:18.58.
Boyle is set to continue racing in Europe, in two World Cup short course meets in the next two weeks before a break and then resetting her goals for the Commonwealth Games in Glasgow where she is now a prime prospect for medals.
Earlier in the day Wellington's Gareth Kean missed out in qualifying for the semifinals in the 50m backstroke.
The championships finish tomorrow with Nathan Capp (Tauranga) and Samantha Lucie-Smith (Wellington) competing in the 400m individual medley and Kean, Glenn Snyders, Shaun Burnett and Matthew Stanley in the men's medley relay.
Results: Final Women 800m freestyle: Katie Ledecky (USA) 8:13.86, 1 (World Record); Lotte Friis (DEN) 8:16.32, 2; Lauren Boyle (NZL) 8:18.58, 3 (NZ and Oceania Record).
- APNZ