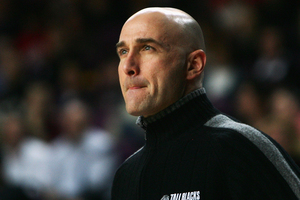 Success at this week's Shikoku Basketball Classic at Szenchen has provided the Tall Blacks with ideal preparation for the upcoming Oceania championship series against Australia.
But perhaps just as importantly, it has given five rookies - three of them teenagers - a winning start to their international careers.
The New Zealand men's side wrapped up the four-team tournament on Wednesday morning with a 67-61 win over the local Liaoning outfit, made up primarily of players from the club that made the Chinese Basketball Association playoffs last season.
Earlier, they had accounted for the Cameroon national team (63-62) and the Mississauga Power side from Canada (92-65).
"This was very important for us,'' said assistant coach Paul Henare. ``Winning becomes a habit.
"We spoke after the game about wanting to continue improving. Every time we put on that black singlet, we want to win basketball games, and do whatever it takes against different opposition and different challenges.
"This programme has been able to do that over the past couple of weeks. Even against the Chinese national team, while results didn't go our way, we played well enough to win games.''
With so many experienced players unavailable, those remaining have had to step up into bigger roles and that happened again against Liaoning, when Breakers swingman Tom Abercrombie sprained an ankle early.
But the young Kiwis have also benefited from the leadership of their senior players, especially captain Mika Vukona, who led the way with 16 points and 14 rebounds.
"Talk about a captain's knock, Mika produced an incredible performance against good opposition,'' Henare said. ``He basically put the team on his back said, `come with me'.
"You could see how inspired everyone - not just the young guys but the older ones, too - was by that performance. But it was pretty special for young guys to come into this environment and see what was needed to win basketball games.''
Now the four teams have moved to Zhongshan, where they play each other all over again - the Tall Blacks next face Cameroon on Friday night (NZT).
"We've now got three other teams that are pretty p***** off and will feel they are better than us,'' Henare said. ``We're quite a young group against grown men, but we've been able to execute and come up trumps.
"It'll be good for us to play tough games against tough opposition with a target on our backs.''
- APNZ