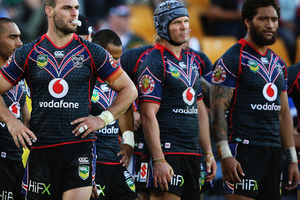 Newcastle Knights owner Nathan Tinkler has run afoul of the NRL after court documents revealed he bet on his team to beat the Warriors in 2011.
Tinkler is being sued in the Northern Territory Supreme Court by betting agency Luxbet, which accuses the multi-millionaire of unpaid debts.
Court documents showed the mining magnate placed a $25,000 bet on the Knights to beat the Warriors at Mt Smart Stadium on August 13, 2011, five months after he took ownership of the club.
Tinkler, who has a personal fortune of A$235 million, was left empty-handed when the Warriors scored two late tries to win 20-12. And insult has now been added to injury with the NRL's integrity unit set to probe the allegations.
"It's a matter that the integrity unit is making some inquiries into," NRL chief operating officer Jim Doyle told The Australian.
"The NRL's rules prevent any official from betting and that includes anyone with a financial interest in a club. At this stage it's too early to comment beyond that."
Tinkler is likely to face a large fine if found to be guilty of wrongdoing, though the NRL has in its powers to strip the owner of his licence.
-nzherald.co.nz