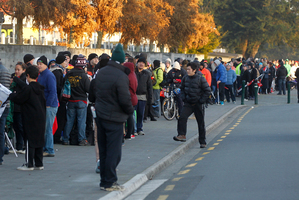 Hundreds of Chiefs fans - some queuing for close to 12 hours - have braved the cold to snap up tickets for their side's second Super rugby home grand final appearance in two years.
Tickets to the public went on sale this morning at 8am by which time a queue stretching about 300 metres had formed.
Are you off to the game? Email us here.
First in line was Emily and her husband, who asked not to be named because he told his boss he was ill and wouldn't be at work today.
Emily said she and her husband arrived outside Waikato Stadium last night about 8.30pm with multiple layers of clothing, blankets and food.
"We just thought it would be packed out, actually it didn't take long before people started arriving," she said.
Just behind the Mercer couple were Alannah Harris and her 11-year-old son Eddie who left their Waiuku home last night at 7pm for their trip to the stadium to get tickets.
They got to the ground and saw no-one there so went and grabbed dinner, staking their place at number two in the queue at 10pm.
Ms Harris and her son kept themselves warm in sleeping bags and even managed to get a bit of kip in.
"We tried to get tickets online last year but didn't have any luck so we had to be sure this time," the mother of three said.
By 2am a 40-metre queue had formed with dozens of others setting up for a cold morning during which temperatures got down to just one degree.
Chiefs chief executive Gary Dawson said just 13,000 tickets were available this morning after season ticket holders bought 12,000.
He said a further 400 tickets had gone to Brumbies fans and dozens of people from Australia had also signed up to become Chiefs season ticketholders next year to secure tickets to the final.
Mr Dawson said the interest in the grand final was probably greater than that of All Black test matches held in Hamilton.
"This is right up there and this is even more than last year just looking at the queue and last year was massive," he said.
"I've never seen anything like this even for All Black test matches."
Chiefs marketing manager Vanessa Parker said tickets for last year's grand final sold out by mid-morning. She expected tickets to sell out more quickly today.
The Brumbies arrive in Hamilton tomorrow.