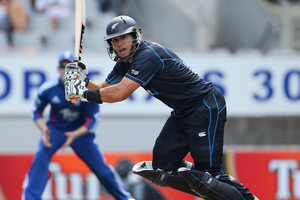 New Zealand will play their pool games at six different home venues in the cricket World Cup in 2015.
The schedule released today has New Zealand opening the tournament in Christchurch on February 14 against 1996 champions Sri Lanka, subject to the city's planned development at Hagley Park getting the tick from the Environment Court.
New Zealand, placed in pool A, will also play Bangladesh in Hamilton, a qualifying nation at University Oval in Dunedin, another qualifier in Napier, England at Wellington's Westpac Stadium and in the stellar clash, Australia at Eden Park.
In addition, Eden Park will host one semifinal. New Zealand, should they make the last four, are guaranteed to play in Auckland.
If Australia and New Zealand are drawn to face each other in the semifinal, the game will be played in the country which finished higher in pool play.
There are seven venues in each of New Zealand and Australia, and an even split of 21 pool games in both countries.
The final will be held at the Melbourne Cricket Ground on March 29, with Sydney to host the other semifinal.
Pool A: England, Australia, New Zealand, Sri Lanka, qualifier 1, qualifier 2.
Pool B: South Africa, India, Pakistan, West Indies, Zimbabwe, Ireland, qualifier 4.
Fixtures
Auckland, Eden Park
Saturday 28 February Australia v New Zealand D/N
Saturday 7 March South Africa v Pakistan D/N
Saturday 14 March India v Zimbabwe D/N
Tuesday 24 March Semi Final D/N
Christchurch , Hagley Oval
Saturday 14 February Sri Lanka v New Zealand D
Saturday 21 February Pakistan v West Indies D
Monday 23 February England v Qualifier (Q3) D
Dunedin, University Oval
Tuesday 17 February New Zealand v Qualifier (Q3) D
Sunday 22 February Sri Lanka v Qualifier (Q2) D
Thursday 26 February Qualifier (Q2) v Qualifier (Q3) D
Hamilton, Seddon Park
Sunday 15 February South Africa v Zimbabwe D/N
Tuesday 10 March India v Ireland D/N
Friday 13 March Bangladesh v New Zealand D/N
Napier, McLean Park
Wednesday 4 March Pakistan v Qualifier (Q4) D/N
Sunday 8 March New Zealand v Qualifier (Q2) D
Sunday 15 March West Indies v Qualifier (Q4) D
Nelson, Saxton Oval
Monday 16 February West Indies v Ireland D
Thursday 19 February Zimbabwe v Qualifier (Q4) D
Thursday 5 March Bangladesh v Qualifier (Q3) D
Wellington Regional Stadium
Friday 20 February England v New Zealand D/N
Sunday 1 March England v Sri Lanka D
Thursday 12 March South Africa v Qualifier (Q4) D/N
Saturday 21 March Quarterfinals
Quarterfinals
Wed 18 Mar - First quarterfinal, SCG, Sydney D/N
Thurs 19 Mar - Second quarterfinal, MCG D/N
Fri 20 Mar - Third quarterfinal, Adelaide Oval, Adelaide D/N
Sat 21 Mar - Fourth quarterfinal, Wellington Regional Stadium, Wellington D/N
Semifinals
Tues 24 Mar - First semi-final, Eden Park, Auckland D/N
Thurs 26 Mar- Second semi-final, SCG, Sydney D/N
Final
Sun 29 Mar - Final, MCG, Melbourne D/N
World Cup fitures and pool announcement - as it happend