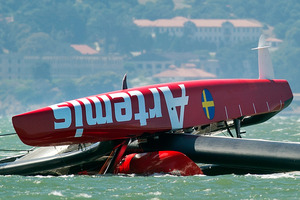 Artemis skipper Iain Percy kept a strong grip on the rudder of common sense and trimmed the sails of expectation yesterday.
The appearance of Artemis on San Francisco Bay after May's shocking capsize and the death of Andrew Simpson has provoked an emotional response.
"We've had great support," Percy said. "It's been really nice to see the camaraderie from the other teams - we've had a great cheer from all those guys as we have sailed past.
"To go out on those boats for three days in a row is one thing on its own; but to go out for three days in a row in your first time sailing one of them is quite something."
Percy admitted that he and his crew had to fight their instincts to leap into the new 72ft catamaran and press it as hard as it would go. But he doubted that the team would race before the semifinals against Luna Rossa on August 7.
"We suffered a horrendous accident and one thing we are all very, very sure about is that we don't want that to happen again.
"We will be taking baby steps and we will progress at our own speed and we will be ready to race after that. We don't want to run before we can walk. It's great fun progressing [as fast as they are] but we have to respect the boat; that has been made clear to us so brutally."
Asked who he thought had the fastest boat, Percy said: "There's been a lot of opinions from a lot of experts, myself included, that have been wrong. It is actually quite hard to assess. We have our numbers from the first three days we have sailed and we have the numbers from the other challengers - and we are a long way behind."
He praised Team NZ's efforts as the benchmark.
"We see Dean Barker and his guys out there doing a fantastic job of sailing and putting all of us to shame. They are a great sight for us to behold."