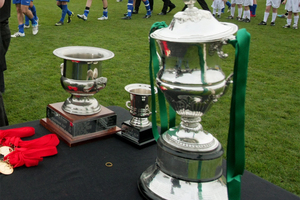 Melville United and Cashmere Technical have drawn home semifinals for the final four of the Chatham Cup.
Hamilton's Melville will host Auckland's Waitakere City while Wellington Olympic will make the trip to Christchurch to face Cashmere.
2009 champions Olympic earned a spot in the semfinals after coming back from two goals down to beat Dunedin's Caversham 3-2 in the capital on Sunday.
Waitakere City were ruthless 7-0 winners against Onehunga Sports, Cashmere professional in edging Marist 1-0 in Palmerston North while first division Melville are the wildcard in the final four after upsetting Birkenhead United 3-2 at home on Saturday.
The matches will be played on the weekend on August 24 and 25.
- APNZ