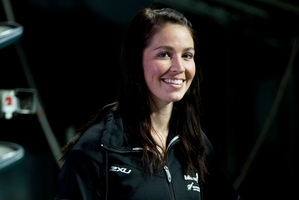 "Go Trent," yells Sarah Walker as Trent Jones blasts down the starting ramp at the start of the Vector Arena BMX track.
"Stay on, stay on," Walker yells.
BMX is all about getting to the front - and staying on. Jones does, winning his heat. He blasts through the finish line then cannons into a huge crash pad at high speed, bringing an electronic scoreboard tumbling down on top of him. He is extricated and scoots off, seemingly unharmed.
New Zealand's silver medal hero from the London Olympics, Walker isn't surprised by Jones' big post-finish smash.
"Even I can't stop in time, and I'm not going as fast as them."
The 2013 UCI BMX world championships have been a smash hit, perhaps the only negative being the number of impacts the riders have taken from the asphalt track.
Walker knows all about that. She's just got back from hospital, the x-rays on her injured collarbone thankfully clear.
The broken arm she was recovering from before crashing out is also still intact.
"I was really stoked that I didn't re-break that arm," says Walker. "But I hit my shoulder pretty hard. There's definitely some bruising in there. Right at the end of the collar bone I have a bit of tenderness but the x-ray has come back clean."
Her smash means at least a week off her bike, which suits Walker. She's taking "a few of the girls" - including the gold and bronze medallists from London - on a tiki tour of the country.
The next question, about where BMX sits in the cycling landscape, proves difficult to phrase. The words ugly stepsister tumble out, but Walker isn't bothered. The establishment of a national centre of excellence in Cambridge means elite cyclists will share the same training base and access the same expertise. BMX is a sport on the rise, thanks mainly to its potential to deliver Olympic glory.
"When I started in this sport I didn't ever think I would make it to be an Olympian," says Walker. "It was just a hobby.
"To go to two Olympics and have a world championships in our backyard is pretty special. The fact we can ride our bikes fulltime and are going to start training together and pushing each other, making sure we are true to ourselves, it's an exciting time."