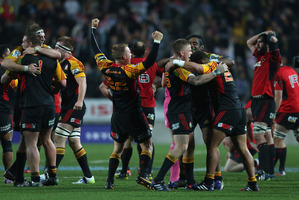 The Chiefs won a second successive Super Rugby semifinal thriller over the Crusaders last night, but one national hero suffered a double blow to his bruised pride.
All Black captain Richie McCaw's entrance in the second half was met with loud booing around Waikato Stadium.
Rugby blogger Paul Williams tweeted: "McCaw being booed by some of the Chiefs fans. He's probably the greatest All Black - of all time. Weird."
Another fan, Farah Azhari, wrote: "Whats wrong with you people?"
"They jus jealous of his freakin awesomeness," replied Renai Mattu.
McCaw was in just his second Super Rugby match back from a long sabbatical. But by the time he took the field, even McCaw's magic couldn't inspire the Crusaders to victory, as they went down 19-20 to a ruthless Chiefs team, sending the cowbells ringing.
Before kickoff, tension around the stadium was high among around 25,000 fans, many festooned of the colours of their team. Crusaders rivalled Chiefs fans - in colour if not in number.
One fan, Paige Cox, 21, called for the injured Richard Kahui to be given a last-minute callup. "He is hot as hell and should marry me," she said.