Yorkshire-based Kiwi determined to put in big effort in Moscow after Cantwell's death in Tahiti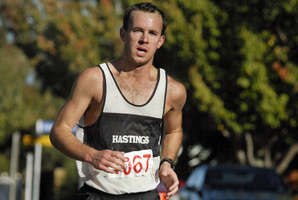 Racewalker Quentin Rew says he will compete in the IAAF World Athletic Championships in Russia with a good friend in the back of his mind. As he points out "any article on racewalking in New Zealand at the moment would be incomplete without a tribute to Lesley Cantwell".
The 26-year-old from Fiordland died in hospital in Tahiti after falling seriously ill following the completion of a race walk in June.
"She was a lovely person and a brilliant walker, and her sudden and shocking death leaves a huge hole in our small community," said the 28-year-old who has represented New Zealand since 2008. "Not to mention in the lives of her family - in particular her 3-year-old daughter who must be terribly confused and upset."
Rew spent plenty of time confused and upset himself from his adopted home of Yorkshire where he has lived since last September. It didn't make sense. But life must go on and he is determined to put on a performance in Moscow that is a fitting tribute.
He heads to the worlds confident about his recent form that has rewritten the New Zealand record books.
How has your form been in 2013 in the buildup to the Worlds?
Unexpectedly fast. My main goal for the first half of the season was to walk under 1:24 for 20km. In the first big race of the year I reduced my 20km PB from 1:27.47 to 1:22.56. Next time out I lowered it again to 1:22.16, breaking Craig Barrett's New Zealand record in the process. I haven't raced a 50km since last year's Olympics, but the 40km training sessions over the past few weeks suggest I'm on track for a personal best in Moscow.
What conditions are you expecting in Moscow?
Moscow in August is like summer in beautiful Wellington: it could be 30 degrees or it could be 12 degrees. Cold temperatures will bring faster times, but I've always done okay in hot conditions, relative to other athletes.
What is your goal for the worlds - what time do you have in mind?
Conditions are likely to have a huge effect on times. If conditions are favourable then I might have a crack at Craig's New Zealand record of 3:48.05. Either way I'm aiming for a top 16 placing in the 50km. The 50km is only 2 days after the 20km, which isn't nearly long enough to recover, so I'm only racing the 50km.
You are at the elite level of your sport but how did your walking career first start?
I had a running career that was longer than it was fruitful. I picked up an Achilles injury in 2003 that vehemently resisted treatment, and by 2007 I quit the sport in frustration. I wasn't able to train as I wanted to, which meant that I was running slowly and getting beaten by guys I used to beat comfortably. I was out of athletics for over a year in 2007/08, but my competitive personality wasn't fond of all the down time. I used to run with Richard Potts in Hastings and, knowing he was a fine racewalker, I asked him to show me how it was done. He got me started, and also put me in touch with Graeme Jones, a superb coach who happened to live just around the corner from me on Napier Hill. Graeme even dusted off his racing shoes once he realised I was going to keep bugging him about coming training with me, and before long we won gold and silver at the New Zealand 50km champs.
What inspired your move to the UK?
I always wanted to live overseas for a stint, more as a change in lifestyle.
England was the logical choice in Europe, being the easiest in which to get a visa and find work, and it's close enough to the Continent that we can travel easily. The timing worked in well with the London Olympics, so after the Games we stayed. Tempting as it was to join all the other post-graduate Kiwis in London, we settled on Leeds because of the training environment here. Being here is brilliant in terms of competing: there are so many high-quality races within an hour's flight. I've been able to race against some of the best in the world several times already in 2013, and those opportunities aren't available for athletes based in New Zealand.
What have been some of the key lessons you have learned there to improve your walking?
I'm a firm believer in listening to everyone and following no one. I try to talk to as many knowledgeable people as I can, and get their take on how to be excellent. There are specific things that I need to do every step I take, as well as broader considerations like training philosophy, and the specific aspects of technique, recovery, nutrition, psychology, flexibility, strength and conditioning.
Explain what a typical day is like for you in the UK.
We'll typically train twice a day, often with a gym session in the middle. In between times the focus is on recovery: eating something sugary as soon as possible after training, and eating proper meals regularly too; ice-baths; and rest. There's no such thing as a "typical week" - training structure changes constantly to fit with the time of the season. Weekly mileage might range from 120km to 200km.
What is your ultimate goal in racewalking and how do you feel you are tracking for this?
The ultimate goal is an Olympic gold medal. It's still early days, but so far I'm still improving rapidly, which augurs well. My 50km PB improved by 12 minutes last year, 18 minutes in 2011 and 27 minutes in 2010. I can certainly improve further.
What advice do you offer to other young up-and-coming walkers?
For young athletes the most important thing is staying in the sport, which is quite a challenge. I have thick skin but the abuse you get when you're out training might be more than some people are willing to put up with. But it's a sport in which hard work really does beat natural talent so training well and training consistently really does pay dividends. If you can get into a positive training environment and stay there then you'll go far.
Quentin Rew
Personal bests: 20km 1:22:16, 50km 3:55:03
Represented NZ since 2008
Notable performances:
24th - 2011 World Championships 50km race walk 4:08:46
30th - 2012 Olympic Games 50km race walk 3:55:03
For more information visit:
'Q Walks Fast' Facebook page
And Quentin's blog
IAAF World Championships
When: August 10-18
Where: Moscow, Russia
For more information visit: www.iaaf.org