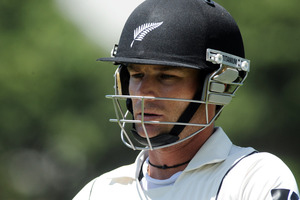 Former Black Caps wicketkeeper Reece Young has announced his retirement from First Class cricket today.
Young debuted for the Black Caps in the opening Test against Pakistan in January 2011 and played the last of his five Test matches in the historic victory over Australia in Hobart in December 2011.
Young has been a stalwart of the domestic game in New Zealand for 14 years since his debut for Auckland in the 1998-99 season, after representing that province through all age group teams.
He is the most capped Auckland player having played 97 First Class matches (126 in total) and holds the record for most dismissals for Auckland with 258.
Young scored eight First Class hundreds with a highest score of 126 not out and was Auckland's leading batsman in 2008/09 with a total of 557 runs at an average of 50.63.
He also played two seasons for Canterbury in 2010/11 and 2011/12. It was during this period he made his Black Caps debut.
"I am pleased to announce my retirement from First Class cricket," Young said. "I am proud of what I have achieved and will take away many great memories. However, I feel the time is right to move onto new challenges and prioritise my family and a post-cricket career. It's been a privilege to have made a career in cricket for so long.

"I have been fortunate enough to represent my country and play in winning Test sides, win domestic titles with Auckland and Canterbury and have a lot of fun along the way.
"I'd like to thank my wife and family for all their support over the past 14 years playing professional cricket. At times it hasn't been easy so thank you for sticking by me.
"I would also like to thank everyone who has supported me throughout my career, starting when I first made age group teams for Auckland.
"The decision to finish my cricket career has come from a desire to focus on my family and career opportunities outside of cricket. I have been fortunate to gain some experience in recent months with Triumph & Disaster, a fast-growing company I'm excited to be involved with.
"I have also been fortunate to work over the past four to five years with the Players Association's careers programme, building my experiences outside of cricket and learning business skills. This has helped me gain skills and experience and given me confidence to move away from cricket and into a post-cricket career."
Auckland Cricket Chief Executive Mark Cameron said, "Reece has been an outstanding player for Auckland for a very long time and we're sorry to see him step down, but realise the time is right for him.
"His record speaks for itself as the player with the most appearances for Auckland and after a decade as the first choice wicketkeeper, the most dismissals behind the stumps as well. He has been a fantastic player for the Aces and one whose professional attitude to the game has always shone through. He's a player that all fans of Auckland Cricket have thoroughly enjoyed watching and I'm sure will wish him all the best in his retirement."
- APNZ