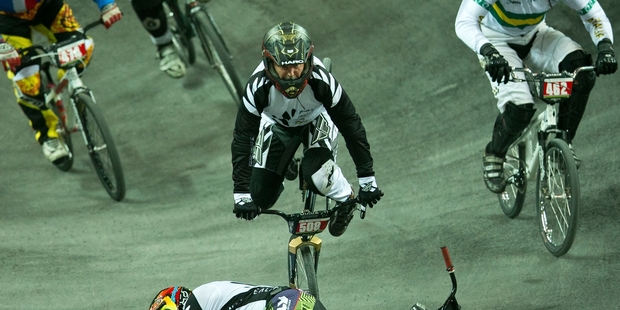 The youngest world champions in any sport were found at the UCI BMX World Championships in Auckland yesterday.
Benaiah Richards, of Australia, took the 5 and 6-year-old boys' class, in his third season in the sport, having started out as a 4-year-old. Auckland's Mountain Raiders Club rider Sacha Earnest was the youngest female victor in the girls' 5 to 7 years division.
Seven titles were decided in classes up to the 9-year-olds, where three of the champions were already repeating previous success.
Kjelle Poets, from Lommel in northern Belgium, completed a trifecta in the 9 year girls, having won the title the previous two years at Birmingham and Copenhagen.
And local crowd favourite Lachlan Stevens McNabb, from Rotorua, took his third title in the 9 year boys after a head-to-head tussle with defending champion Connor Defrain from the USA. The pair raced shoulder to shoulder down the first two straights, but Defrain slightly miscued a jump on the third straight and McNabb edged ahead to win.
"I really wanted that after Connor beat me last year," said McNabb, who had previously won as a 6 and 7-year-old in South Africa and Copenhagen respectively.
American Dane Morales repeated his success of last year in the 7 year boys.
Leila Walker from Cambridge took the 8 year girl's honours from defending champion Grace Stevenson of the USA.
Walker had set her sights on the World 1 plate after winning the national title on her home track at Easter.
She has a simple long-term goal - "when I grow up I want to go to the Olympics".
Thomas Tucker from Brisbane bagged Australia's second title of the session when he took out the 8 year boys after his only previous trip to the world champs had resulted in elimination in the semifinals.
Last night, Rotorua's Dave Mohi, famous for his sneakers-and-jeans approach to the sport, won another world title in the 40+ class.
Tahlia Hansen and Rebecca Petch came first and second in the 16 and under girls' cruiser class.
Today, the ramp will increase to 8m and the jumps increased in preparation for the elite racers.