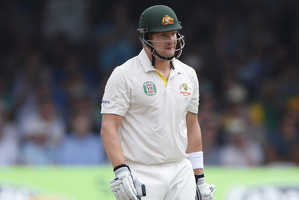 Australia have decided that time away from cricket is the best way for all-rounder Shane Watson to clear his mind and break out of his lbw trend in the Ashes series.
Watson, opener Chris Rogers and paceman Peter Siddle are injury-free but staying on in London to refresh after being given a leave pass from the tour match against Sussex in Brighton starting on Saturday.
Australia haven't officially named their side for the three-day game, but it's obvious as there are only 11 players who will be available.
Pace bowler James Pattinson has been ruled out of the rest of the series with stress fractures, spinner Ashton Agar is recovering from a minor hip strain and injury-prone fast bowler Ryan Harris will also be rested after bowling at Lord's.
David Warner is unavailable because of his commitments with Australia A in Africa.
All of the squad, with the exception of Pattinson, will be available for the third Ashes test at Old Trafford beginning on August 1, when Australia attempt to avoid a series defeat after losing the first two tests. At this stage, there are no plans for extra squad members to be added.
Keeper-batsman Matthew Wade will get his chance to push for selection as a specialist batsman, playing at No 6 against Sussex with incumbent keeper Brad Haddin at No 7.
Ed Cowan will return to the top order, while quicks James Faulkner, Mitchell Starc and Jackson Bird will bowl off for the place in the attack vacated by Pattinson.
Nathan Lyon will play as the spinner and, after an underwhelming performance by young Agar at Lord's, can force his way back.
Watson has been dismissed leg before wicket three consecutive times from four innings this series. He has been out lbw at a higher percentage than any batsman who has played more than 70 innings.
England have targeted his weakness and will continue to pepper his pads. Watson started well in each of his innings but, as he has done much of his career, found a way to throw away his wicket.
Watson gets the chance to rest up his battle-weary and injury-prone body this week with the hope it will help clear his mind. Australian high performance manager Pat Howard said Watson was fine.
"I'm not going to go into Shane but he and I had a lovely chat for an hour last night. The team is galvanised."
Howard refused to discuss Watson's technical issues and said, in the context of the Lord's collapse, it was unfair to single out players for blame.
"Everybody came here this time last year to play in conditions which are foreign to them. It's not only technical issues but also mental issues in the conditions," he said.
"The coaches have well laid out plans of getting that information in and getting that skill acquisition and that takes a bit of time."
- AAP