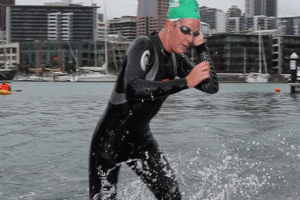 Queensland-based Kiwi Cara Baker finished 23rd in the women's 10km open water swim at the Fina World Championships in Barcelona overnight (NZT).
Baker, who finished in a share of fifth in the 5km earlier in the week, was nestled in the front pack until the blowtorch went on over the final lap on the technical U-shaped course around the Barcelona Marina.
Brazilian pair Poliana Okimoto Cintra and Ana Marcela Cunha won gold and silver, managing to stay out of a congested main pack in what proved an aggressive and physical race, while Baker crossed only 19 seconds back.
Swimming New Zealand open water manager Phillip Rush said Baker had swum strongly but could not go with the jump in pace in the final lap.
"Like the men's race, the quality across the board in open water swimming has gone to another level even since the Olympics," Rush said. "The times and the depth of talent were outstanding.
"Cara, like Kane Radford, has improved for sure and while a top 16 was their big goal, they should be proud of their achievements in what has been some very impressive open water competition."
The competition is not over yet for the New Zealand trio of Baker, Radford and Philip Ryan, who will take part in Friday's team relay for the first time. The time is taken on the final swimmer of the trio across the line in the 5km event.
- APNZ