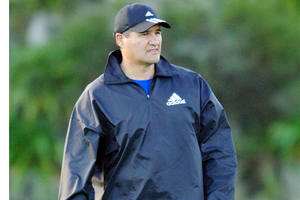 Colin Cooper has wanted to coach the New Zealand Maori team for a long time but feels he has never been ready.
For the Taranaki coach and former coach of the Hurricanes, now is the right time.
"It's the perfect fit," he said. "It didn't fit when I was coaching at Super level but it fits now... If I got it earlier I probably wouldn't be ready for it. But I feel I'm really ready to coach this team now."
Announced yesterday as Jamie Joseph's replacement after the Highlanders coach decided to concentrate solely on his troubled southern franchise, Cooper will direct the NZ Maori against Canada in Toronto and the USA in Philadelphia in November.
He will have Tabai Matson as his assistant, an important selection, he believes, as Crusaders assistant coach Matson will not be involved in the ITM Cup.
The NZ Maori team will assemble straight after the finish of the provincial tournament before departing for Toronto.
"Selection is the key because it's quite a tough tour," Cooper said. "We meet and we're playing six or seven days from the meeting because of the ITM Cup. We've got to get the selection right and we've got to get young men who are aspiring to be the best they can be."
The USA recently pushed Ireland extremely close in Houston, the Irish winning 15-12, and Cooper believes both matches will be extremely challenging.
"We're going to have to unite very quickly in order to be successful."
Cooper, a former NZ Maori player of Ngati Pukenga descent, said he would be in close contact with Matson and the All Blacks selectors during the ITM Cup in terms of selecting players.
"Our main drive is really to continue the good work that has been done. I guess it's about getting the best players to create a real high-performance team that's going to go out there and be proud of who they are and win."
NZ Maori tour of North America:
November 3 v Canada in Toronto
November 9 v USA in Philadelphia
NZ Maori record last year:
Lost 32-24 v Leicester
Won 52-17 v RFU Selection
Won 32-19 v Canada
- APNZ