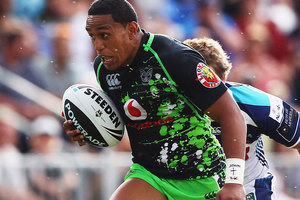 Warriors wing Glen Fisiiahi will sit out the rest of the season following confirmation today he requires surgery to repair a pectoral injury.
Fisiiahi sustained a tear to the right side of the muscle during the Warriors' win over Wests Tigers in Sydney on Friday night, and team doctor John Mayhew's initial assessment has been confirmed by orthopaedic surgeon Stu Walsh.
Mayhew said an MRI scan has revealed a complete rupture of the right pectoralis major muscle, leaving Fisiiahi facing surgery in about 10 days.
"The usual recovery period is in excess of three months following surgery," Mayhew said. "Glen won't be available for further football this year."
The injury means the 22-year-old not only misses the rest of the Warriors' 2013 NRL campaign but is also ruled out of playing for Tonga at the Rugby League World Cup in October-November.
"It's terrible luck for Fish and a real setback for us," said Warriors coach Matt Elliott. "He had been doing a terrific job for us.
"Naturally he's devastated and we all feel for him. What we'll do as a group is give him all the support we can to ensure he recovers well for next season."
Fisiiahi, who has had his best season since his NRL debut in 2011, left the field in the 60th minute of the club's 24-14 win over the Tigers.
After making eight appearances in 2011 and 2012, he more than doubled his career tally to 19 matches, scoring five tries in 11 games this year.
Expected to take Fisiiahi's spot on the right wing is 20-year-old Ngani Laumape, who has made eight NRL appearances since his debut against Cronulla in March.
Fisiiahi becomes the fourth Warrior with a season-ending injury. Sione Lousi was ruled out for the year with an ACL knee injury in the first trial of the season in February, while Steve Rapira and Ben Henry also needed surgery to repair ACL injuries later in the year.
Apart from that quartet, the Warriors have Russell Packer (hamstring) and Charlie Gubb (groin) on the injured list, though it's hoped they will be available for selection when the Warriors host the Storm on Sunday.
#
Walking wounded - Warriors' injury list:
Glen Fisiiahi - pectoral (out for season)
Charlie Gubb - groin (back for round 20)
Ben Henry - knee (out for season)
Sione Lousi - knee (out for season)
Russell Packer - hamstring (back for round 20)
Steve Rapira - knee (out for season)
- APNZ