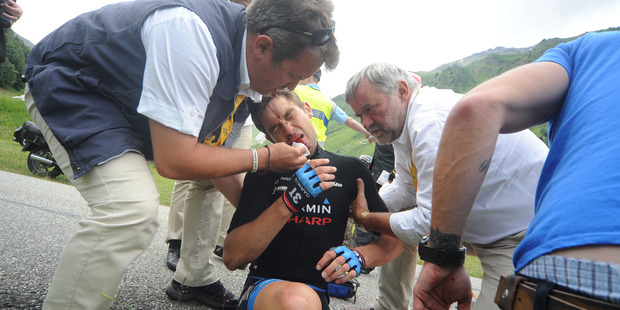 New Zealand cyclist Jack Bauer has severe facial injuries and been forced to withdraw from the Tour de France after falling into a barbed wire fence during last night's stage (NZT).

The 27-year-old Team Garmin-Sharp rider went off the narrow road into barbed wire during the descent of the Col du Glandon on stage 19 causing cuts to his lip and significant bleeding. Team physician Kevin Sprouse said Bauer was recovering well and had been released from hospital.

"Jack has eight stiches across his upper lip, two on his forehead and one on his chin,'' Sprouse said in a statement to the Herald on Sunday. "He has multiple abrasions to his face and lips. At the moment there are no known fractures but with injuries like this when swelling reduces, small fractures may be detected.''

Sprouse said given the serious nature of the accident, Bauer's injuries could have been a lot worse.

"We're all very thankful that they weren't.''

Bauer reportedly had x-rays but they cleared him of any facial fractures.

Team manager Jonathan Vaughters had a message for Bauer's female fans.

"He had a bunch of stitches in his face so, for all the ladies out there, he's a little uglier than he was before. But don't worry - it'll heal up.'' he told Agence France Presse.

The crash is the third reported crash this year for Bauer, in his maiden Tour de France. He crashed during stage 12, but was able to carry on. In March he was knocked unconscious in a one day race in Belgium.