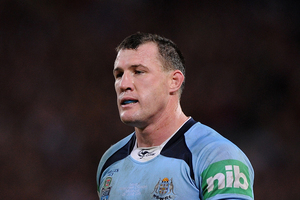 Injured NSW skipper Paul Gallen has sparked plenty of emotion with a heart-felt plea to his teammates to dig deep and be tough in tonight's State of Origin series decider.
Gallen will miss the sold-out clash at ANZ Stadium because of his foot injury but he provided inspiration for new skipper Robbie Farah's men when he presented the Blues with their jumpers on Tuesday night.
"It was terrific," assistant coach Matt Parish told reporters this morning.
"Gal's an inspirational leader, he leads by example, more so than with his words.
"But last night he said a couple of really pertinent things...it was quite emotional.
"He said to the boys, 'you're going to be in some dark places out here tonight and you've got to dig deep, be tough together ... and hang through the tough times. It'll come through'.
"That was the main message he tried to deliver."
It's not the first time NSW's hopes of a drought-breaking series victory have been pinned on a decider, but - after seven straight years of Queensland domination - it is perhaps their biggest moment in Origin's 28-year history.
Regardless, Parish said the Blues were relaxed and training had been smooth, despite the absence of Gallen and fellow injured star Jarryd Hayne.
"We don't feel like it's Groundhog Day," Parish said.
"Despite Gal and Haynesy not being there, we believe this is our best opportunity to win the series for a number of years.
"But again, we know we need to play well to win the game."
There are unlikely to be any last-minute changes to the side, with Parish confirming all were fit.
"It's now or never," he said.
-AAP