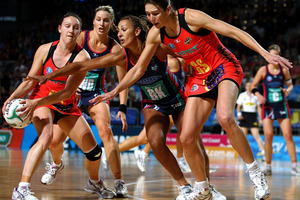 Former Silver Fern Margaret Forsyth was today named as the Waikato-Bay of Plenty Magic assistant coach.
Forsyth, who is a current Silver Ferns selector, will assist newly appointed head coach Julie Fitzgerald, following the resignation of long serving coach Noeline Taurua in May.
Fitzgerald said she was delighted to have Forsyth's mana, experience and local knowledge involved in the Magic environment.
"I am looking forward to working with Margaret in building a formidable squad as well as continuing to develop netball coaches and players within the Waikato, Bay of Plenty and Gisborne areas," Fitzgerald said.
Waikato Bay of Plenty netball zone chief executive Tim Hamilton says it's a real coup to secure the signature of such an experienced coach.
"We are continuing to build a team of people with high standards, considerable experience, netball knowledge and an understanding of the local issues with a focus on doing the best we can at Kia Magic level (within salary caps and related parameters) as well as developing more quality coaches in our zone," Hamilton said.
"Margaret is an iconic figure in netball, a lady with values and principles that fit the zone's purpose values and principles framework perfectly. We are delighted to have Margaret involved."
Meanwhile, Australian netball skipper Natalie von Bertouch has announced her retirement from the sport.
Von Bertouch led the Diamonds to victory at the 2011 world championship.
She capped her career by steering the Adelaide Thunderbirds to a second trans-Tasman title with a win over the Queensland Firebirds last Sunday.
The 30-year-old has battled injury in recent years.
Von Bertouch also played in two Commonwealth Games, helping Australia to silver medals in 2006 and 2010.