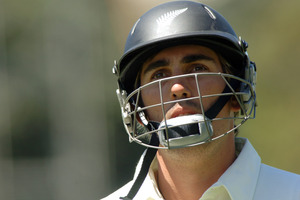 Former New Zealand batsman Mathew Sinclair has retired from cricket after nearly two decades as a first-class player.
The 37-year-old, who played 33 tests, 54 one-day and two Twenty20 internationals, announced his decision on Twitter this morning.
"That big announcement that i was talking about...its official i have RETIRED from cricket. Thanks to all,'' he tweeted.
Sinclair was one of the most prolific New Zealand batsmen at first-class level, scoring 13,717 runs at an average of 48.64 - he plundered 36 hundreds and 68 half-centuries for an average - but struggled to translate this to the international level.
He famously made 214 on debut against the West Indies in Wellington in 1999 - the second-highest in international cricket at the time - and followed that with 204 not out against Pakistan the following season but struggled to gain a permanent place in the test and one-day team.
He became disillusioned with New Zealand cricket, especially when he was dumped from the contract list in 2007, but earned a recall to the test side in 2010 for one test against Australia.
He played his entire domestic career with Central Districts, winning eight domestic trophies.
"Having taken a few months since the end of last season to consider my options, I have decided that the timing is right to call time on my playing career,'' Sinclair said in a statement. "I have two young children and a wife who I want to spend more time with and the constant travel that the Stags endure each year makes that pretty tough.
"I am also at the stage where I want to get into a career outside of cricket and, unless you are in a position to totally devote yourself, it's difficult to get the opportunities that I am after.
"There are some really talented younger batsmen coming through for CD, so I feel it's the right time from the team's perspective as well.''
- APNZ