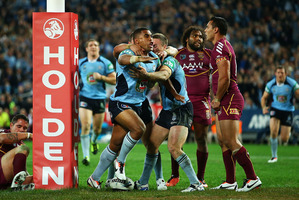 Gold Coast Mayor Tom Tate is plotting to steal a State of Origin game from Brisbane and host league's showpiece event at a revamped Metricon Stadium at Carrara, says a News Ltd report.
With the Gold Coast to host the 2018 Commonwealth Games, the Courier Mail newspaper says Tate has written to the ARL Commission to begin negotiations to host one of the interstate showdowns in the lead-up.
The mayor has outlined a big-match blueprint for the tourist strip, which includes hosting a rugby league test within the next two years against New Zealand or Papua New Guinea, before landing an Origin clash on the eve of the Games.
The Courier Mail is reporting local civic leaders are desperate to secure sporting blockbusters to test the Gold Coast's ability to cope with huge crowds expected during the Commonwealth Games.
Skilled Park at Robina has already hosted a World Cup league match, Indigenous All Stars games and a rugby test between the Wallabies and Argentina but, with a capacity of just 27,000, it would not be able to handle an Origin epic, which routinely sells out the 52,000-capacity Suncorp Stadium.
Metricon Stadium will be upgraded to hold more than 40,000 fans for the Games and looms as the most likely venue for any Origin match.
With the Victorian government already successful in luring an Origin match for a number of alternating years, Tate said he saw no reason why the Gold Coast could not follow suit.
Tate will also write to the Australian Rugby Union hoping to secure a test against New Zealand or South Africa closer to the Games.
- AAP