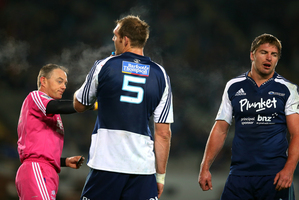 Blues lock Kane Barrett has been handed a two-week ban after pleading guilty to two instances of stamping during his side's loss to the Chiefs on Saturday night.
Barrett was sent off by referee Chris Pollock in the 22nd minute of the 26-16 defeat at Eden Park after making contact with Craig Clarke's head, while he was also cited by the Sanzar judiciary for a separate incident two minutes earlier.
The judicial officer found the first incident to be the more serious of the pair, writing that the red card offence was an ineffectual movement which "carried little or no danger''.
Barrett's sanction was initially imposed as three weeks but his exemplary disciplinary record, along with his acceptance of the breaches, reduced the suspension to a fortnight.
With the Blues having missed the playoffs, Barrett will miss no competitive rugby before his ban ends on August 1 and he will be free to captain Taranaki in the ITM Cup, starting August 15.
- APNZ