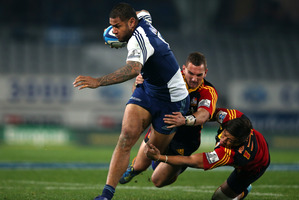 Rugby's absurd laws remain the greatest blight on the game.
The sport's rulers have failed to keep pace with improvements like lineout lifting and defensive strengths to leave a game which is increasingly perplexing. Lofty ideals about integrating seasons north and south of the equator should be ignored until IRB officials - or better still a panel of modern, logical rugby folk - unpick the laws and deliver a sport we can understand.
Rugby has lurched into greater confusion with every year of professionalism. Sharp coaches devise ways of outwitting laws and referees are literally caught in the spotlight because of rugby's molluscan lawmakers.
The game does not connect enough with the players or spectators. Administrators pander to those with remote controls and playback devices in their TV dens.
They get some grasp on refereeing decisions or can change channels when they see the muddle they got at Eden Park on Saturday when the Chiefs qualified top with a 26-16 win against the Blues.
Spectators at the ground watch replay screens without the benefit of detailed vision or the entire conversation between a referee and his assistants. Questioning looks highlight the growing ambiguity in rugby. They see:
•Tackled players crawling metres after being held.
•Bewildered tacklers throwing their hands up in exasperation.
•Screens and blocking plays
•Players tackled without the ball around rucks
•Persistent offsides
•Players lying in rucks who can't be shifted.
If rules were stripped back and there were clearer lines about the rights and wrongs, it would improve.
At the moment everything is blurred. The tackled ball zone has been a zoo since rucking was banned, offside lines have big doglegs, scrums are a reset waiting to happen, players regularly move ahead of their kickers.
The breakdown has to be sorted.
It remains the greatest scourge in rugby with tackled players often crawling for another few metres or completing three forward rolls with an inward pike before they place the ball. There are solutions.
Once a player is tackled and held on the ground both he and his opponent should be out of the game. They should not be allowed to contest the next phase, as they do now with all the pretence of letting each other and possession go. With that pair out of action teammates would be forced to hit the breakdown to contest possession and therefore open up more space on the field.
Interference, blocking and obstruction have flourished while the IRB lawmakers have dithered and their referee agents have been left to deal with the mess.
Let's blow time on this nonsense and find some real answers.