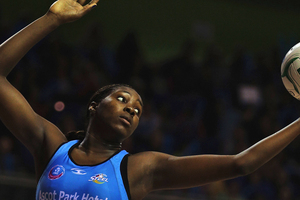 Southern Steel shooter Jhaniele Fowler has been named Most Valuable Player in the transtasman competition this year.
In her debut season in the ANZ Championship, Fowler became the third import, and second Jamaican to win the MVP, after compatriot Romelda Aiken (2008 and 2009) and England's Sonia Mkoloma (2008).
It representated a clean sweep of awards for Fowler, after being named best new talent and at goal shoot in the All Star team this week.
Fowler finished with 666 goals, a competition record, and most goals in a game, scoring 65 twice this year.
"It is very special because I think I was born to play netball and then to be so good at what I do and what I love, it's beyond special; I'm really blessed and thankful for it," Fowler said of being named the competition's best this season.
"Honestly, I was only going for shooting accuracy, not breaking records, so that is just a plus for me and I'm thankful for that also."
Fowler, who has re-signed with the Steel for another two seasons, said her aim for next year is to help her side make the finals for the first time since their last appearance in 2010.
Fowler finished with 19 votes, Firebirds shooter Aiken was second with 18, while the Waikato Bay of Plenty Magic centre Laura Langman, Queensland Firebirds attacker Natalie Medhurst and Adelaide Thunderbirds' Carla Borrego tied for third with 17 votes.
The other New Zealand player to make the top 10 was Central Pulse defender Katrina Grant, with 13.