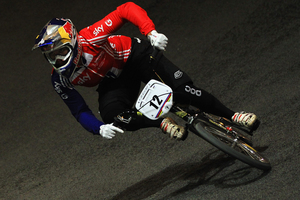 Three-time world champion Shanaze Reade has pulled out of the BMX world championships in Auckland this month.
British rider Reade, who won the title in 2007, 2008 and 2010, injured a knee during a training camp in Papendal, the Netherlands early this month and has not recovered in time to be competitive in Auckland.
"Having won every major race this year I was confident and excited to race in New Zealand. This was one of my biggest goals for 2013," Reade said.
"To miss out on the world championships is really disappointing, however my team and I believe this is definitely the correct decision."
Reade, 24, also had two world championship track titles on her CV, being part of the winning teams in the team sprint in 2007 and 2008.
The world championships run from July 24-28 at Vector Arena.