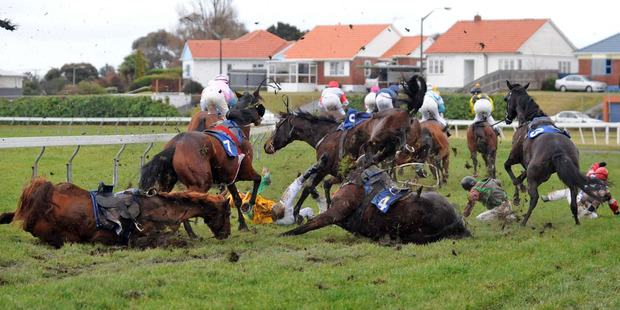 Five horses and their jockeys crashed to the ground in an "ugly incident" at a Wanganui Jockey Club race meeting in front of the main grandstand yesterday.
Horses' connections had to scramble on to the course to sort the melee out after the horses that had fallen got up and started racing towards the remaining field coming around the track.
Assistant race day judge Iain Hyndman said two of the jockeys, sisters Rosie and Kelly Myers, were injured. Kelly Myers was taken to hospital with a large bruise on her check and suspected fractured cheek bone while Rosie Myers was stood down from the rest of the day's racing.
The accident happened in race six, the Goile Roofing 2060, at 2.40pm.
Mr Hyndman said And Thatz Scotty, ridden by Corey Perrett, clipped the heels of one of the horses in front of him. That brought down those two horses and three others.
"It happened in front of the grandstand on the first round, right in front of the winning post. It was an ugly, ugly incident."
Mr Hyndman said the three other jockeys were uninjured.
All horses were looked at by a vet and were uninjured. The track was heavy, with light rain.