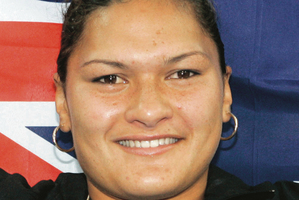 Q: Greetings Val, you've won another Diamond League meet in Paris. If you weren't throwing metal balls around the Stade de France, what would you do in the city?
I love to roam around famous sights like the Eiffel Tower and people-watch. Tourists are great. You can tell the Americans. They're always: "Oh my gawd, where is this? Where is that?" whereas the Europeans and English can be really oblivious to hawkers. It can be hilarious watching them get sucked in. Those guys who walk around rattling mini Eiffel Towers tend to hang around.
Q: Could you see yourself living in Paris or Switzerland permanently?
Never. I've got a house in New Zealand and that is home. Switzerland is a second home. I know I can be away around nine months a year and it can be a b**** getting back, but I love it.
Q: How useful is it to speak fluent French rather than relying on third form stuff where ordering a ham and cheese croissant is the extent of your powers?
It's awesome, Paris is one of my favourite Diamond League meets as a result. I find it is a knowledgeable track and field crowd too, which creates a really good atmosphere.
Q: I saw on your Twitter account @ValerieAdams84 that you had to fork out 7 for a cappuccino near your hotel the other day. Surely that's a bit on the nose no matter how fluffy it is on top?
Yeah, what a bloody rip-off. Mind you, they put us up in an awesome hotel which looks out on the Eiffel Tower. It still took us an hour to get to the stadium, but hey, it's Paris.
Q: Once you become Dame Val Adams after the next Olympics will you still keep your number in the phonebook like Sir Ed?
Oh c'mon (laughs), it's three years to Rio, anything could happen.
Q: Seriously though, earlier in the year at the Pacific Showcase Market, the place practically see-sawed to come down the far end of The Cloud to see you compete. What does that mean to you?
It's important to get the public involved and bring track and field to them. They celebrate what we do but it's not always available. That's what made that day great; it was free, people could bring their kids along, get a decent feed and hang around to watch some shot put. There was a buzz in the air. It's great having people behind you because when they're pumped, you're pumped.
Q: You suggested a Sonny Bill Williams v Joseph Parker bout for the New Zealand heavyweight boxing title recently on Twitter. What prompted that? You should be in marketing...
I know Joseph Parker well. We went to the Delhi Commonwealth Games together and he's a good bloke. I'd like to see him get a shot. It's only fair. People came back and said Parker's a boxer, Sonny Bill's a rugby player so it'll never happen, but I just put it out there. I reckon it'd be a good fight. Joseph obviously wants it, so why not fight for it; otherwise give it up.
Q: You'd be able to get ringside tickets?
(Laughs). Yeah, maybe (shrugs).
Q: Here's another one which I know will get you on your soapbox. How do we solve Auckland's public transport problems, because over here [in Europe] trains and buses come left, right and centre?
I know. Switzerland public transport gets you to places in no time. They come at least every 10 minutes (clicks fingers) not very hour.
Q: What are you telling Len Brown, Val?
Obviously it is pretty hard to solve and involves a lot of money but if you're out east you can't get a train into town. You might have to ferry from Halfmoon Bay. There's also nothing direct from east or south to the North Shore.
Q: Kiwis just love their cars too much, don't they?
Yeah, we do, but if public transport was reliable and on time I reckon we'd use it. People say it's expensive but in Switzerland I pay 160 francs [$210] a year to get a card that lets me get on anything half price.
Q: Clumsy segue here, but do you play any musical instruments?
Nah, maybe the triangle ... ding, ding.
Q: What are you listening to at the moment, then?
Three Houses Down. They've got a few new sounds out. I used to go to church with them. They're a good bunch of boys. Also Ladi6, six60 and RDX when I'm competing.
Q: Do you still go to church?
No, I used to be a Mormon, I got married in a Catholic church and I believe in God but I'm a fairly free spirit at the moment.
Q: Seems like you're creating your own destiny.
Yeah.