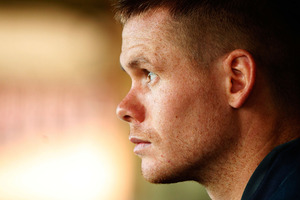 Few footballers turn down Manchester United, and next weekend Michael McGlinchey will hope he can prove they were right to chase his signature.
The All Whites midfielder was today confirmed in the A-League All Stars team to tackle the English heavyweights in front of 85,000 spectators at ANZ Stadium on July 20 after receiving a healthy chunk of the 30,000 votes from fans and others from a panel of experts and former players.
The side will be missing some of the biggest names - Alessandro Del Piero, Emile Heskey and Shinji Ono have decided to skip the game and Johnny Warren Medal winner Marco Rojas is unavailable having joined up with his new German Bundesliga outfit VFB Stuttgart - but the Red Devils are planning to line up with some big guns including Ryan Giggs, Rio Ferdinand, Wayne Rooney and Robin van Persie.
It's a bit far-fetched to suggest McGlinchey might have been among them had he opted to sign for Manchester United aged 15, especially given the direction his Celtic career took, but he has often wondered what might have happened had he moved to Old Trafford instead of Celtic Park.
"I have often thought about that but I thought the decision at the time was the best to be in and around the family and I had a lot of people I trusted at Celtic at the time, like [former Celtic manager] Tommy Burns,'' McGlinchey said. ``I thought it was the best club for me to be at and try to develop.
"I don't have regrets. It was obviously exciting to be chased by Manchester United but growing up in Scotland I think many people see Celtic as a bigger club and it's a massive pill to get attracted to Celtic as well.
"I went down [to Manchester] for the week to check it all out and I was offered a contract. I came pretty close to signing with them. To turn it down was obviously a massive decision in my life. It seems like a lifetime ago now.''
A lot has happened since.
He became the youngest person to play for Celtic when he debuted aged 15 years and 273 days old but struggled to break into the first team. He went on loan to Dunfermline in 2007/08 and was eventually released by Celtic in May 2009.
McGlinchey resurrected his career in Australia in the A-League and also switched international allegiance to New Zealand - he played youth football for Scotland - helping them qualify for the 2010 World Cup.
Last season was his best when his Central Coast Mariners side won their first title and the diminutive 26-year-old finished fourth in the voting behind Rojas for the award as the league's best player. He scored six goals in 26 games, set up seven others and became a linchpin in the middle of the park.
"I have always been confident in myself but [Mariners coach] Graham Arnold has figured out how to get the best out of me,'' he said. ``He fills me with all the confidence I need to go onto the pitch and play and it shows week in, week out. He knows what he's going to get out of me now and I know myself as a player. I am comfortable with how I am playing.
"As a team and individually, if I had the same season again [next season] I would be happy. I just want to play every minute of every game, score goals and hopefully finish at the top of the table.''
His ambitions will be similar next weekend but, deep down, he might again contemplate what life might have been like if he had joined Manchester United.
- APNZ