In a grey rugby world at least Williams was different, although he missed the mark too often for his own good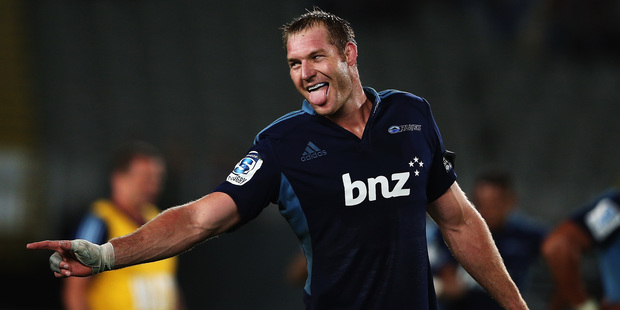 Has there ever been such a controversial Auckland lock as Ali Williams? And has the city's place as the home of the great locks in world rugby come to an end?
Well yes, absolutely, on the former. Williams is certainly not alone in being a big target for brick bats in the Queen City. Andrew Maxwell Haden knew how to get the pulse racing, both on (remember Wales) and off the field. They are two very different animals of course - Haden was and still is, at times, a controversial and influential political rugby figure whereas Williams exhibits a narrower view of the world.
Williams is off to Toulon, ending a fabulous career in this country - at his peak, he was the best open field lock I've seen in rugby. His athleticism for the position was second to none, and he had an instinct for turning up in the right places, no matter how unusual. His ball running was exceptional during an era where rugby was transitioning to brick walls running into brick walls, that's when kick tennis wasn't ruining the game.
Man, did he polarise opinion though and as a result Williams hasn't quite got the recognition he deserves for the player he has been. A teacher at King's College told me recently the Williams he remembers was, mainly, committed to anything that involved a laugh. In other words Comical Ali from the outset, fortunately or not.
Let's face it - the bloke made an absolute goose of himself when an apparent immaturity stamped him the biggest kid in town. There was the misguided decision to hide in a super hero suit, a snub to the media and public when his duty was to talk about playing for the Crusaders against the Blues, the team he deserted. Then there was a childish performance with Sonny Bill Williams at a press conference. What on earth was that about? He was even sent home from one of the Blues' overseas assignments. In short, the big fella let himself down on a few occasions. He also seemed to save his best work for the All Blacks.
Being part of failed World Cup bids didn't help the image, and major injuries cut short his prime. There's also the suspicion Williams is viewed by the rest of the country as a symbol of a smart-arse Auckland they love to hate, even though such a one-dimensional place could never exist.
Bottom line: when it comes to All Black forwards, the stereotypical hard man fits the national bill - there was never much chance of Colin Meads wearing tights. But hey, there are always two sides to the same coin. I've actually enjoyed Williams' post-match comments for the Blues this year. In contrast to the standard issue, they seem to come from the heart.
Will we see the likes of Williams again? Is there actually room for the maverick-type forward in the modern game? And will Auckland be able to continue its significant line of world-class, skyscraper locks? They've been an integral part of Auckland rugby for the past 40 years - Peter Whiting, Andy Haden, Gary Whetton, Robin Brooke, Ali Williams. Williams' departure signals the end of that era. What a tremendous player he was, and in a grey rugby world at least Williams was a bit different, although he missed the mark too often for his own good.
Important to add, though, that public perceptions of famous people and reality (a subjective business anyway) can be poles apart.
Deans' No 2 just not good enough
Defenders of Robbie Deans, or those searching for a silver lining to his reign as Wallaby coach, point out he raised Australia's rugby ranking from five to the giddy heights of two. There's only one ranking that counts for a team with Australia's proud history of over-achievement - No 1. Even then it is no substitute for trophies. Deans was a coach of the highest reputation when he took on the Aussie job, and his task was to bring the trophy cabinet back into play. He failed, and there's no getting around that. As players and others have said, he is a genuine bloke who worked very hard. But he needed the titles to go with that.
White a miracle worker, but ...
Jake White is an outstanding rugby coach. The Springboks' World Cup winner has worked a miracle in reviving the once powerful Brumbies, who collapsed when their star players took a self-interested control a few years ago. But after Australia's first foreign coach had failed, White was surely never going to get the Wallaby gig ahead of Ewen McKenzie. White's ultra-conservative, one-dimensional game plans don't fit the traditional Australian rugby mould and skills either.
Sir Andy Murray? Madness
So Andy Murray is in line for a knighthood, for winning a tennis tournament. Good God - has the world gone mad? I'm not a fan of the honours system anyway. The proliferation of sporting-related honours is about politicians improving their image by linking with popular figures. This is the oldest advertising trick in the book.
All this knighthood talk doesn't even reflect how good Murray is. It explains how bad Britain has been at tennis.
Ashes prediction: England 4-1
The Ashes are upon us. Fabulous. Tradition does mean something, although the wall-to-wall, in-depth coverage is probably what helps set the old cricket rivalry apart these days. Whatever the reason, it might be the last bastion of enthralling, fascinating test cricket - which is the only cricket worth caring about. There are a few late nights in store. This column's prediction: a 4-1 series win to England. Australia are too reliant on Michael Clarke for runs, while James Anderson and Graeme Swann will be too good for the rest of the Aussie batting.