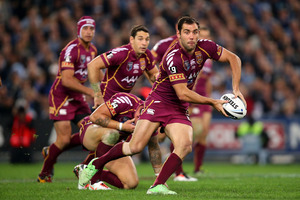 Relax long-suffering NSW fans - even Queensland captain Cameron Smith can see the Maroons' remarkable State of Origin dominance ending.
Just not any time soon.
The statistics are damning for Queensland ahead of next week's State of Origin decider at ANZ Stadium in Sydney.
They have a 4-1-15 (win-draw-loss) record at the game three venue, including losing their last three.
While Smith admitted there would come a day seven-straight champions Queensland would falter, he believed the omens were good for his side ahead of Origin III. Instead of feeling dread, Smith said the prospect of putting their remarkable reign on the line in front of a rabid Blues crowd next week evoked a sense of deja vu.
Just once during their stunning run has Queensland sealed a series with victory in Sydney - way back in 2008.
NSW had drawn first blood with an 18-10 win, only to be ambushed 30-0 at Suncorp Stadium in game two.
The Maroons went on to clinch a third straight series with a 16-10 win at ANZ Stadium.
Fast forward to 2013 and Queensland are poised to repeat the feat after rebounding from a 14-6 opening loss by thumping the Blues 26-6 at home.
Not that Smith had to be reminded after the memories came flooding back in the lead-up to next Wednesday night's Origin III showdown.
"We've been in this position before. It's almost identical to 2008," he said. "It's a huge challenge going down there and getting a win. But it's about the belief of going down there and knowing we can win in Sydney. It's nice to have in the back of the mind that they are beatable down there even though it is a hostile environment."
Smith believed staring down NSW next week posed one of the greatest challenges of their record run - not that he was complaining. "Everyone is waiting for us to fall over and there is going to be a day that happens, but hopefully it's not this year," he said.
"They're getting better every year but we're still trying to improve. But we are a team that thrives on new challenges. And there's no bigger than going down to Sydney and facing an NSW side that has confidence. We look forward to it."
Stats may favour NSW before Origin III but here's one the NSW faithful may not want to hear - for the first time since their unbeaten streak began in 2006, Queensland coach Mal Meninga named an unchanged 17 on Tuesday.
- AAP