Coach confident testing last minutes will stand her side in good stead.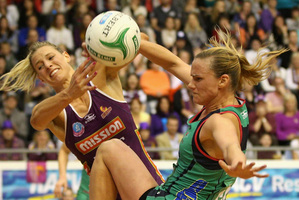 Coach Roselee Jencke is confident a nerve-testing preliminary final win over the Melbourne Vixens will stand the Queensland Firebirds in good stead in the transtasman netball competition grand final.
The Firebirds earned the chance to reclaim the title they won in 2011 when they meet the ladder-topping Adelaide Thunderbirds in the season decider in Adelaide next Sunday after defeating the Vixens 50-46 yesterday in Melbourne.
After a tight first half, the Firebirds looked in command when leading by eight goals after the third term as goal shooters Romelda Aiken (37 goals from 42 attempts) and Natalie Medhurst (13 from 16) dominated the competition's best defenders in Bianca Chatfield and Geva Mentor.
The defensive pressure of the Firebirds across the court stopped the Vixens playing the fast-paced netball they love.
But the Vixens tried one last throw of the dice and it almost came off as coach Simone McKinnis replaced Karyn Howarth with the more mobile Tegan Caldwell, and Caldwell in combination with veteran Sharelle McMahon started to find space and accuracy in the goal circle.
They cut the lead back to just one goal with four minutes left before the Firebirds steadied to secure their grand final berth.
"We held our nerve, that is all I can say. We stood up when we had to stand up, they were coming hard at us and we stood up," said Jencke.
"It was all about looking at our finish, making sure that we play smarter and in the last two weeks we have played some very smart ball and kept possession.
"We are all pinching ourselves. The season has gone so quickly. When you start a season you always believe you can be there, but it takes a grand effort to get there because you are playing against amazing teams week in and week out."
Jencke believed her side was better equipped this year to handle the added pressures of grand final week.
"We have enough experience in there to know that we will be able to handle it. We have been there before, so we know that it is a wonderful time and the centre of attention is all on us."
In a distraction for the Firebirds, centre Kim Ravaillion will have scans on her left ankle this week after a heavy fall late in the third quarter but Jencke was confident the 20-year-old would be available.
Having finished second on the ladder, it was a bitter disappointment for the Vixens to have lost both of their finals.
Whether McMahon will remain part of the Vixens team next year is unclear. "I'm not sure yet ... I really wanted to live in the moment of this, give it everything that I could," she said. "It is hard in a situation like this. Last week we thought we were going to get a home grand final, this week we thought we would fight it through to contest the grand final.
"It is all a bit new and raw, but we will sit down and talk about things and decide from there."
Firebirds 50
Vixens 46
- AAP