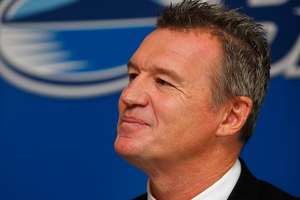 Blues coach Sir John Kirwan believes his side has plenty of maturing to do as professional rugby players.
The Blues can no longer make Super Rugby's top six, with a 34-13 loss to the Cheetahs in Bloemfontein seeing the Africans through to the playoffs for the first time in their history.
Kirwan says his young side needs to learn how to close out games.
"I think the most disappointing, reflecting now, was the Highlanders, where we just weren't professional enough to go down there and really do the job.
"And I think that's got a lot to do with young guys learning to be very good professionals.''
The visitors trailed 19-10 at halftime, and Kirwan says they need to mature as footballers.
"It's a bit of a reality check for us, we know how we can play.
"We've got the ability, although the side's very, very young, but I just think they just need to learn about preparation.''
The Cheetahs win secures them a playoff spot for the first time.
Meanwhile the Highlanders have edged the Hurricanes 49-44 for just the third win of their season, while the Stormers have beaten the Kings 24-12.
The Bulls have scored a late try to narrowly beat the Sharks 20-19, and move ahead of the Chiefs atop the standings.