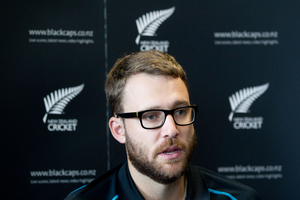 Daniel Vettori's decision to opt out of a 2013-14 contract with New Zealand Cricket is a magnanimous and pragmatic move. It leaves him with no pressure, no obligations and no regrets trying to resurrect his 16-and-a-half-year international career after surgery on his left Achilles tendon.
The 34-year-old is street-wise. If he was to keep taking the cash, knowing he was unlikely to get game time, it could be perceived as money-grubbing when another player could benefit from full-time NZC employment. Vettori should already be on the way to financial independence through the Indian Premier League and other T20 sideshows in addition to his NZC contracted years.
Vettori has little to prove. His footprint on New Zealand cricket history is vast. This gesture buys him time to structure his return and, if not, offers an escape from the public spotlight to consider his future. Beyond bat and ball there appear to be a number of suitors. Newspapers would clamber for his thoughts; his articulate, savvy observations could also suit radio and television is always looking for the next former 'big name'.
Alternatively, a role as an assistant or specialist coach - like he had briefly with the Brisbane Heat over summer - which keeps him involved on the playing side, could be an option. Perhaps he could start like Stephen Fleming in the IPL and blossom into a role in the national ranks, like Shane Bond.
Yet sometimes the greatest players struggle to inject the wisdom gleaned from personal success into their charges. Vettori also needs to ask if he wants to remain in a spotlight he has never stepped away from since walking out in white against England in February 1997. A more ordinary life away from the glare might appeal.
A business career where cricket earnings are prudently invested in a few ventures might be the most sensible option with the added bonus of flexibility so that he can spend time with wife Mary and their three young children.
There remain obvious playing incentives. On a personal level, the prospect of joining Kapil Dev on the 400 wicket/5000 run perch in test history beckons; Vettori has 360 wickets and 4516 runs. On a team level, he could play a World Cup at home in 2015 - something not afforded to New Zealanders since 1992.
Vettori was at pains to point out at Friday's media conference that the injury has brought a "diminished appetite to do a lot of things". Whatever his decision, continuing to play through painkilling injections, as he did at the Champions Trophy, is unsustainable.
The concern of long-term team-mates Brendon McCullum and Kyle Mills was palpable during the tournament. Mills found it difficult seeing his friend in such pain limping around the field. McCullum indicated - as diplomatically as he could - that an exit strategy needs consideration.
Long-term, you suspect Vettori will be unwilling to play a token role. He's competitive and nothing but the highest standards will suffice to reinforce a record which has turned him into a household name in cricket. Something's got to give.