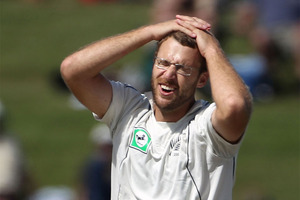 The doubt surrounding Daniel Vettori's cricket career was matched by the man himself today, with the stricken spinner opting against receiving a contract for next season.
It was a move of his own making - and a measure of Vettori's character - but it was far from a white flag in the fight against the Archilles ailment which has plagued him for 12 months.
Vettori is not ready to walk away from cricket entirely but, equally, he is making no promises about in which capacity he could return.
The 2015 World Cup in New Zealand is one motivation, as is his proximity to Kapil Dev's one-man 400 test wickets/4000 test runs club, but Vettori refused to look any further ahead than his immediate recovery.
The 34-year-old underwent surgery on his Archilles in London last month, and the prognosis is good. But Vettori is so far away from returning to the crease he felt it unfair to receive remuneration from either New Zealand Cricket or Northern Districts for the 2013/14 season.
Given the uncertainty surrounding his health, Vettori would likely have slipped out of the top three on the central contact list. But, presuming he would have still settled inside the top 10, he has turned down a guaranteed $130,000-150,000.
If that decision illustrates the principles of the man, it also hints at how much work remains before he can again pull on the black cap.
Vettori required pain-killing injections to play at last month's Champions Trophy and, with such a scenario unsustainable in the long-term, he opted for an operation that ideally will be the final chapter in the saga.
"Every time I tried to come back it flared up a little bit," he said. "I'm really hopeful that this surgery is the final effort to get it right.
"Speaking to the surgeon, he was pretty confident I could get it right. He's dealt with these similar sorts of injuries in the past and he's had guys come back to full sporting activity."
If Vettori does likewise, the cricketing purist was non-committal on whether he could still subject his body to the rigours of test cricket, or whether he would instead return as a Twenty20 gun-for-hire.
"It's hard to speculate on what's going to happen. If it works out 100 per cent, then who knows? I'll make all those decisions when I get up and running."
But one thing is for certain - after wavering during his long lay-off, Vettori is determined to retire on his own terms.
"When you're going through injuries for such a long period of time, you consider a lot of things. But this is about hopefully getting it right and then being able to make decisions."
- APNZ