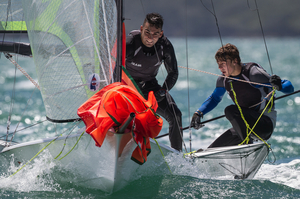 Two New Zealand crews are in the top three at the halfway stage of the 49er European Championships sailed off Aarhus, Denmark, overnight (NZT).
Marcus Hansen and Josh Porebski went into the day's racing leading the competition but slipped to second on a difficult day of racing that saw delays because of light winds. The young pair collected a 17th and 10th in the two races overnight and were overtaken by the British combination of Dylan Fletcher and Alain Sign, who opened up an 11-point lead on the field.
Olympic silver medallists Peter Burling and Blair Tuke are ninth and their day got off to a bad start before racing even began when they were disqualified from a race yesterday, which slipped them down the standings. They picked up an 18th and third today.
Alex Maloney and Molly Meech, who are the world's top-ranked crew in the new Olympic class of 49erFX improved from fifth to third overnight as they continue to sail consistently.
They were seventh and 17th today but will be able to discard the 17th as their worst result, meaning they are only one point off second.
"It was pretty light and really shifty again today,'' Meech said. "The first race went OK for us, but we missed a big shift on the right up the first beat but managed to come back from that on the next few legs and finish that off quite nicely. They were really tricky conditions, so everyone was quite up and down.
"The next race the wind dropped off so much. It was so light out there and really tricky on the last downwind. We missed out unfortunately on a massive gust. But it is just skiff racing, I guess.''
Even local knowledge failed the leading Danish crew, who had their worst day with a 14th and an 11th.
Boardsailors at the RS:X European Championships in Brest, France, enjoyed a rest day. Natalia Kosinska remains in second overall with three days remaining.
New Zealand results from the 49er European Championships
Men's 49er: 2nd _ Marcus Hansen and Josh Porebski (4, 22, 2, 1, 1, 2, 17, 10), 9th _ Peter Burling and Blair Tuke (18, 9, 1, 9, DSQ, 1, 18, 3).
Silver Fleet: 15th _ Ben Goodwin and Sam Bullock (6, 8, 15, 22, 25, 20, 13)
Women's 49erFX: 3rd Alexandra Maloney and Molly Meech (10, 9, 6, 2, 10, 3, 7, 17)
- APNZ