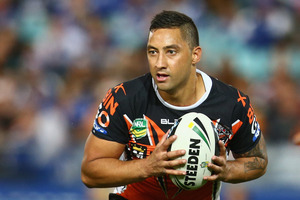 Wests Tigers coach Mick Potter says the NRL club will bend over backwards trying to ensure superstar Benji Marshall remains loyal and rejects an offer to play rugby.
Marshall is contracted to the Tigers until 2015, but speculation continues to build he will walk out on the club if his management is unable to broker a new deal.
Talk of Marshall's future has been bubbling along since he was benched against South Sydney in round 10, and he was seriously contemplating a move to the Auckland-based Blues.
"I haven't read it, but if he is - that's for Benji to look at all his options and see what's best for Benji," Potter said. "I've made my feelings known that I want him to stay. It'll just be whether we can squeeze him in [under the salary cap], and whether the deal's acceptable.
"It's a decision for Benji. But Benji's a good guy and we'll bend over backwards trying to keep him here at the club."
Potter noted he'd like to be involved in less of a "protracted, long-winded negotiation" but that most player deals in the NRL were done that way.
The first-year coach added that the drama was not impacting Marshall or the team, with Tigers captain Robbie Farah agreeing on both counts.
"Either way, I just hope it's sorted sooner rather than later," Farah said. "Hopefully it's a good outcome for the Tigers and Benji will be here for the rest of his career.
"He's handled it pretty well - I know he's kind of put it on the backburner and hasn't got too caught up in it. He's let his manager take control of that, and it's probably showed in the way he's played the last few weeks."
Farah credited Marshall, along with the side's talented young stocks, for triggering a resurgence that has netted four wins from the past five matches.
"There was a period there where Benji and guys like Adam Blair were getting criticised, but they've turned their form around now," he said.
The Tigers will aim to keep their hot run going tonight at Cronulla.
"As soon as we drop the next game, you're looking at the table and doing the what-ifs... we need to keep winning," Potter said of his 14th-placed team.
- AAP