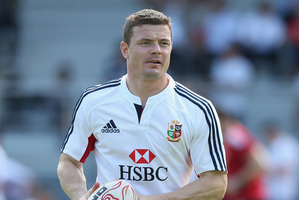 Finally, the No13 jersey has caught up with Brian O'Driscoll.
The legs that have skipped a jig around many tacklers have lost some of their evasive elasticity.
His sharp tactical mind is fine, but his body is not answering the signals as quickly as it once did. Perhaps it is the package of work this season and the cumulative weight of 125 internationals, which has placed him in Irish rugby sainthood for the past 15 years.
After a rest at home, O'Driscoll may regain that sharpness for the November internationals, including another tilt at the All Backs.
But for now, Warren Gatland has watched the corrosion and judged that on balance, a worn-and-torn O'Driscoll does not meet the Lions' needs for the final test.
International coaches do not ditch emblematic players on a whim. Gatland and O'Driscoll have a strong history - and Gatland has bridged a selection gap which many coaches fail to do.
He has removed any sentiment from his decision. He has ignored pleas to give O'Driscoll the chance of a farewell flourish with the Lions and picked the Welsh firm of Jamie Roberts and Jonathan Davies instead in midfield.
That partnership suits the concentration of Welsh players in tomorrow's final test.
It is a combination that has been an invaluable platform for Wales in their rising international success. They are a proven duo, comfortable with the intricacies of each other's play - Roberts is the hammer and Davies is the sickle.
Roberts is a huge man who bends and can break defensive lines for Davies to take an offload or the forwards to rumble ahead. The other player in world rugby with similar power in that role is Ma'a Nonu.
Picking the Welsh pair is a decision with plenty of rationale, but ignoring O'Driscoll for the reserves bench and preferring the heavyweight Manu Tuilagi does not make as much sense. Not unless some of the in-house medical reports have had some influence on the decision.
Perhaps Roberts' right hamstring is not quite right and with that liability, Tuilagi is a handy heavyweight replacement.
Teams are more potent if they can play a mix of styles and picking O'Driscoll on the bench would have given the Lions that variation in tandem with Roberts or Davies.
His experience would also be invaluable in the white-hot last 30 minutes of a series when the Lions are looking to hold their lead or chase a deficit for a historic series victory.