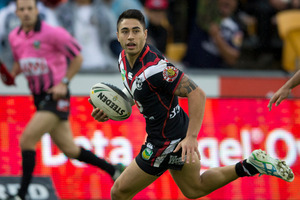 Hi Kamo,
I'm an old Takapuna player ( I remember being ball boy at Onewa Domain when you played for Haaaarbouuuur). I now live and coach in the United Kingdom, and I was wondering, what do you believe are the real differences between the two hemispheres' playing style, physically and mentally?
Clayton Saunders
The ability to maintain intensity and build pressure for longer periods of time within the game I feel is the key difference between the two hemispheres. This is developed from an early age in New Zealand, which is why our schools system is so important to us.
With meaningful games every weekend our players learn to prepare properly and start to understand the concentration and attention to detail needed to win. Take this away, or have a competition where the players aren't tested on a regular basis, and it will have a major impact on our game going forward. This playing/ training intensity and competition for places in all of our grades means that to advance to the highest level you must be among the world's best - a lot like our rowers who produce world champions just by the demands of earning a chance to represent New Zealand.
From all of this we produce athletes with a mental toughness not matched across the board by players in Europe.
Do we send the best rugby players in NZ to the Olympics, or do we send the best sevens players? Some examples of the 15-a-side that could work in sevens: Cory Jane, Ben Smith, both Gears, Rene Ranger. It would be a good question to put to the NZRU?
Irene MacArthur
For some, Irene, they are going to be one and the same. What we need in Rio 2016, and what Sir Gordon Tietjens must demand from them, is players who are fully committed, mind, body and soul to the challenging task of winning a gold medal. The 2015 Rugby World Cup finishes in October of that year with the Olympics kicking off 10 months later in August 2016.
Plenty of time for our best talent, regardless of the code or variations within, to eat, sleep and think like a sevens player and put their name forward for selection. Nothing short of this commitment and wholehearted approach will be good enough if they want to go to the Olympics.
The NZRU has made winning two golds in Rio one of its seven key priorities so it must back this up with player availability. If we want the best, send the best.
If Shaun Johnson changed codes so that he could play for the All Blacks sevens in the Rio Olympics, would he have to play the 15-man game first? If so would you think he would be a better candidate for the Blues instead of Benji Marshall?
Matt Strickett
If Shaun Johnson decided to switch codes and commit himself to making the All Blacks sevens team for Rio, I don't see why he would need to play the 15-man game as well. The commitment needed to win gold at any Olympics would, in my opinion, require a single focus towards that goal. No distractions or other demands should be placed on them unless the coach feels those new to the game need to work on certain skills, like the breakdown area in the 15-man game.
I would be excited by the prospect of Johnson and others who have grown up in New Zealand and have a history in our game putting their names forward.
Combine the skills of the player with the coach talent of Sir Gordon Tietjens and rugby can give players something no other on-field contact sport can give - an Olympic gold.