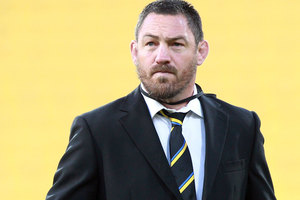 When it comes to the possibility of Ma'a Nonu returning to the Hurricanes, coach Mark Hammett believes "you never say never''.
The enigmatic second-five was punted from the Hurricanes in 2011 as Hammett began his clear-out of the franchise, which was in need of an attitude overhaul.
A host of current or former All Blacks were either shown the door or decided to move on from the Hurricanes and Nonu took his talents north to join the Blues for a season in 2012.
But last year didn't go to plan and Nonu then moved south and linked with the Highlanders for this season.
Whether he returns to Dunedin next year remains to be seen given he reportedly has a frosty relationship with Highlanders coach Jamie Joseph.
Nonu is currently in the midst of a three-week suspension for a tip tackle on Tom Marshall in the Highlanders' 40-12 loss to the Crusaders last weekend.
There aren't too many New Zealand-based options left for Nonu, who likely wouldn't fit the mould of what Dave Rennie looks for in a player at the Chiefs, while the Blues won't want him back either.
He could make a shock move to the Crusaders or return to where it all began for him in 2003 when he debuted for the Hurricanes.
When Nonu pulls on the All Blacks strip he is nearly untouchable but the problem is when it comes to Super Rugby his form goes from the sublime to sub-standard in a matter of games.
Hammett was quizzed today about a possible return to the Hurricanes for Nonu but he didn't think it was likely.
``It's something I haven't really given a lot of thought to be quite honest,'' Hammett said.
``We are always looking at our squad moving forward and I think we've got a good bunch of midfielders, some good young kids coming through, so once again, you never say never.''
If Hammett and Nonu could bury the hatchet, a return to the capital would make sense given Nonu could link with his long-time partner in the midfield for the All Blacks, Conrad Smith.
Nonu is also from Wellington and may feel more comfortable back in the area where he got his start in the game.
The Hurricanes have midfielder Tim Bateman on the books but the 26-year-old hasn't kicked on this year after showing promise last season on his return from Japan, while Reynold Lee-Lo has also pulled on the No 12 jersey for the Hurricanes in 2013 with some success.
The franchise has exciting youngster Ope Peleseuma in their wider training group but the former New Zealand under-20s representative has only played a handful of provincial games for Wellington and is untested at the next level.
With 79 tests and 132 Super Rugby appearances to his name, Nonu has certainly been around the block, and at 31 it's hard to know how much the second-five has left in the tank.
For the past few years Nonu's future has been a point of speculation as he has flirted with offshore moves or the NRL but has ultimately always wound up staying in New Zealand.
The Hurricanes meet the bottom-placed Highlanders at Westpac Stadium on Saturday night - a game that Nonu will be forced to watch rather than participate in due to his suspension.
- APNZ