Gatland's men need to fire up and be inventive to make a real fist of the Sydney decider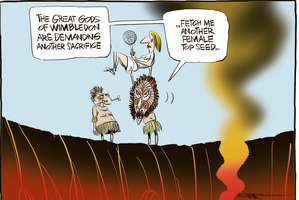 The Lions have got more than a test series to win on Saturday night. They need to discover a spirit for the game and restore some excitement and honour.
Neutral going into the series against the Wallabies, this punter waxed and waned during the second test but ended up cheering for an Australian victory as a protest against the dire muck Warren Gatland's pussycats were serving up in Melbourne.
The best thing about the game was the post-match analysis from Stuart Barnes, the English flyhalf-turned-commentator. Barnes critically dissects rugby using his own brain, unlike our Sky mob who just twiddle about with the theories issued by their All Black masters - that's when they aren't eulogising the black jersey.
Rugby can be a bad enough spectacle as it is without the once-cherished Lions stomping joy out of the game in order to play the percentages, no doubt inspired by analysis that Stephen Hawking would be proud of.
Talk about a big black hole. I've long given up watching Six Nations matches, which were about as exciting (I'd imagine) as queuing in a blizzard for a lobotomy.
In a state of ridiculous optimism, the manner of England's marvellous victory over the All Blacks last year seemed to signal the European rugby powers had realised rugby wasn't an exercise in getting fit enough to train in a gym. Should have known better.
The Lions have no excuses. They aren't preparing for a World Cup. Their coach can't get sacked. Their touring fans are in perpetual excitement, whatever the results. They can pick the cream of the crop.
The Lions should be about freedom and inventiveness. The most successful Lions teams - of long ago - expressed the game's highest ideals. Yet now that Brian O'Driscoll is over-rated, there isn't one Lions back who will be remembered for the right reasons from this series, unless they fire up in Saturday night's final encounter in Sydney.
There was virtually nothing that qualified as a clean Lions break in the Melbourne test.
George North's hoisting of Israel Folau will get plenty of TV action, and Leigh Halfpenny's usually dead-straight goalkicking is fascinating to watch, in the way that watching darts legend Phil "The Power" Taylor is fascinating to watch.
But those two players also represent the Lions' problems. North has the evasion skills of a brick. Halfpenny's goalkicking is so good that the Lions play for penalty opportunities - either that or they've got a side bet on related to how much TV time their omnipresent goalkicking coach Neil Jenkins gets. This latter-day Lions ethos doesn't even work, as we saw with Clive Woodward's joyless army in 2005.
Australia are hardly in stellar form, but at least Folau, James O'Connor, Kurtley Beale and the magnificent Will Genia represent an attempt to make the game interesting. The Northern Hemisphere mob keep scurrying back to the cave - even France came here with a bombs away plan that blew up in their face.
Test rugby is rugby, unlike a sport such as soccer which has other meaningful and high-quality levels. Test rugby needs to discover attacking emphasis and class. I'd loved to be proved wrong about the clawless Lions on Saturday night, but what are the chances?
Because you could only laugh at the northern attacks on the first test referee Chris Pollock, whose performance in Brisbane was an exquisite Rembrandt compared to what the Lions served up in Melbourne. Refereeing inconsistencies are nothing compared to European rugby travesties.
Hope of the day
Sonny Bill Williams remains in league - it's the game he plays best and he will do wonders for the Kiwis as a player and publicity magnet. His form in a new position for the Roosters, at pivot, is fabulous. The NRL is nuts if it doesn't ensure their game has a loophole capacity under a ludicrously low salary cap to keep footballers like SBW.
Hope for the day (2)
Benji Marshall remains in league and fights for his place in the Kiwi lineup. At his best, he is the best. If Marshall can swallow his pride after being dumped as captain, he can make the Kiwis all the better. Marshall has been a committed and vocal advocate of the Kiwis cause, and the playing stocks have never been better in the year of the World Cup defence.
League's master move
I often wonder what the New Zealand Rugby League does all day. They don't have all that much to administer. But the appointment of Ivan Cleary as Steve Kearney's World Cup assistant coach is a cracking move.
All quiet on Elliott front
Refereeing watchdog Matt Elliott, the Warriors coach, seems very quiet on the officiating front these days. The Warriors benefited through a dicey forward pass call against the Broncos. They would have lost but for that. Elliott's conspiracy theory appears to have abated. Maybe he has joined the real world and realises disputable refereeing calls are a swings and roundabouts business.
Dump Crusaders for Chiefs
Advice for Israel Dagg ... make the move son. Quit the dour Crusaders and head for the Chiefs, who are the main game in town right now. They have the best coaching staff and will rejuvenate your career. There is a fullback spot for the taking there.
School's 'black week'
An acquaintance told me of an incident, witnessed by his wife, in which a headmaster of a well-known school bemoaned a black week. The reason - his precious first XV had lost. Junior coach rage continues to hit the headlines. An official moaned to me about loyal, long-time students missing out on first XV places because of his school's poaching policy. It's the way of the world unfortunately, but still, school/junior sport seems to have lost a healthy perspective. Or is that a skewed perspective, based on a few unfortunate incidents?
Stars fall at Wimblegeddon
Someone called it Wimblegeddon. The seeds are being pipped at this year's Wimbledon, with varying views over whether that is good for the game, with the biggest surprises in the men's tournament. Nothing really rates as a major shock in women's tennis, because it is a mish mash of fairly ordinary standards. Even Serena Williams - the eliminated hot favourite - has a history of erratic form.
Lots of hype and hoopla
Well done to young basketballer Steven Adams on becoming a first-round NBA draft choice. Fantastic. But as for all the hoopla - nobody was actually playing any basketball.
The court of public excitement is not the court that counts, and excitable stories about million-dollar salaries is not the currency that matters either. American sports writers also described it as a low-quality draft. I thought Ryan Nelsen signing for Blackburn Rovers years ago was way more significant, and it didn't get anything like the publicity Adams did for joining the Oklahoma City Thunder.