Former All Whites skipper regrets actions which result in four-match punishment.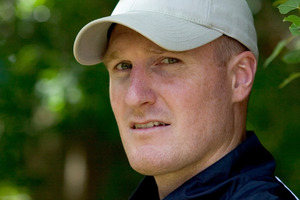 Sacred Heart College 1st XI soccer coach Danny Hay is apologetic and "massively regretful" after a sideline outburst that saw him ejected from a match and handed a four-match ban for abusing match officials.
The former All Whites captain and English Premier League star was shown a red card during a match between Sacred Heart and St Peter's for calling referee Khalid El Gama and touchline official Peter Caffell "f***ing cheats".
Hay said he apologised to his players in the changing room after the match and stressed that it was not the right way to conduct himself.
He met Sacred Heart principal Jim Dale on the Monday after the June 22 match to apologise, and also phoned the parents of young children who might have overheard his outburst to apologise.
Hay had not received notification of his ban when he spoke to the Herald yesterday, but said he had no plans to challenge it.
"I'm regretful but I was just hurting for the boys at the time," he said.
"I am more than happy to face the consequences. If it's a four-match ban so be it."
The outburst, which came after two penalty kicks were awarded against Sacred Heart in a 2-2 draw and eight additional minutes of match time added to the second half, was a "split-second" lapse.
Over a lengthy professional playing career he had never been sent off for abusing a match official.
"It's a one-off little mistake. People are trying to blow it out of all proportion. It's a split second," he said.
"Of course you regret it. You bleed for these boys and I let my emotions get the better of me."
He had become increasingly frustrated with the quality of the competition's officiating and administration, which he felt was letting down talented players.
"We train these kids like pros. It's hard to swallow when you know how well things can be done and how hard these kids work.
"I love helping these kids. We've got good kids playing in this competition, outstanding kids."
Although he had coached a New Zealand Secondary Schools team on a successful tour of England recently, Hay said he had no plans to coach at a higher level.
His passion was helping talented young players to find professional pathways overseas.
Auckland Football Federation chief executive David Parker confirmed a letter had been sent to the Auckland Secondary Schools Football Association advising that Hay had breached regulation seven, which dealt with serious abuse of match officials.
World governing body Fifa had recently upgraded the punishment for breaching the regulation to a four-match ban, which applied to players as well as coaches.
Mr Parker said it was disappointing when anybody abused a match official, regardless of their standing in the game.
Danny Hay
*One of New Zealand's most successful professional footballers, Hay played for Leeds United in the English Premier League and European Champions League.
*He played 31 times for the All Whites over an 11-year international career, captaining his country in 2006.
*He also played professionally for Walsall, Perth Glory and was the inaugural captain of A-League franchise New Zealand Knights.
*He retired in 2007 to pursue a teaching career at Auckland's Sacred Heart College.