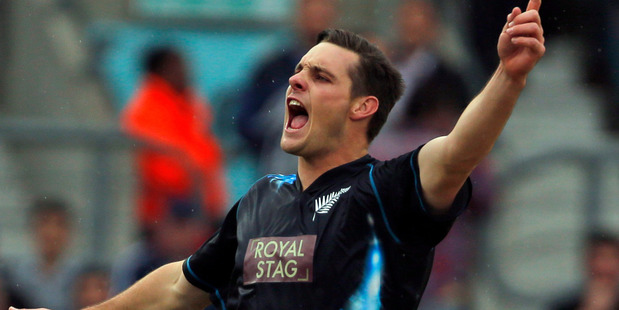 Persistent light rain washed out the final day of New Zealand's tour of England at The Oval today.
Only two balls were possible in the second T20 international before players walked off and didn't return.
The washout means New Zealand won the rubber 1-0, courtesy of their thrilling five-run win at the same ground on Wednesday.
It follows the 2-0 test series defeat to England and the 2-1 victory in the ODI rubber.
All that reinforces the view that New Zealand remains a competitive unit in the lilmited-overs formats, however much work remains in the test game.
In the two balls possible today, England lost opener Michael Lumb. He edged an outswinger from the impressive Mitch McClenaghan, to be caught at second slip by captain Brendon McCullum for two.
It enhanced the start McClenaghan has made to his international career, which began in South Africa late last year.
In eight T20 he's taken nine wickets at a good strike rate and provided New Zealand with a cutting edge in both short form versions.
Today was to be the return of high profile England batsman Kevin Pietersen, who has been out of action since the second test against New Zealand at Wellington in March.
Pietersen, who is over a lengthy knee injury, replaced captain Eion Morgan, who was ruled out by a hand injury.
New Zealand had kept the same XI from Wednesday's win.
The umpires gave the game every chance to be played, even down to a minimum five overs a side.
At one point New Zealand came out and briefly went through some warmup routines in the vain hope of a game.
Not all the New Zealand players will be heading straight home.
Seamers Ian Butler and Kyle Mills have signed T20 contracts with English counties Nottinghamshire and Middlesex respectively.
"There is a great tradition of New Zealand cricketers doing well with Nottinghamshire and I am really looking forward to playing at Trent Bridge," Otago player Butler, whose played 18 T20 internationals, said.
Butler has earlier played for other counties, Gloucestershire and Kent.
Australian David Hussey is Nottinghamshire's other T20 overseas player.
- nzherald.co.nz