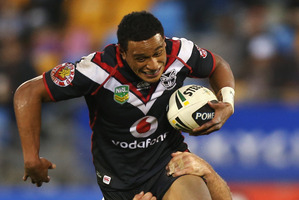 Flying Fish cements place after excelling as fullback and on wing
Whatever number you've got on your back, you've still got to know your job and do it. And that's what I've been doing these past few weeks.
Glen Fisiiahi may have seen off the challenge of Kevin Locke to retain his fullback place at the Warriors, but the player and his coach believe the number on his back is now inconsequential.
The 22-year-old has this season turned his considerable promise into something more substantial, excelling in whichever position he has played, and coach Matt Elliott thinks Fisiiahi will be a fixture in the Warriors' outside backs for years to come.
That assessment is why Fisiiahi is feeling no heat from the returning Locke, or the potential arrival of Sam Tomkins from Wigan. He may be playing at fullback against the Broncos on Sunday, but the "Flying Fish" is now just as comfortable on the wing.
The flank is where Fisiiahi began the Warriors' four-game winning streak but, after Locke hurt his hip flexor before the win over Manly, he has proved every bit as accomplished while wearing the No1 jersey.
The Fisiiahi of old may have struggled to make such a seamless adjustment - especially considering Locke's pre-game injury thrust an unsuspecting Fisiiahi into the fullback role against one of the best backlines in the competition - but he has adapted with aplomb in this campaign.
Four tries in the past three games provide ample evidence of that appraisal, and it's little surprise to hear the former under-20s standout state he is in command of any role across the back three.
"Whatever number you've got on your back, you've still got to know your job and do it," he said. "And that's what I've been doing these past few weeks. Knowing my job a bit better this year, it's really helped out my game a lot.
"I think it was before the Manly game, the captain's run, when [Locke] got injured, and just knowing the fullback role I slotted in there quite well. And the wing spot, as well - it feels all good to play."
The man he is currently keeping on the sidelines has played his part in Fisiiahi's good feelings. He and Locke are good friends off the field and a crocked Locke even provided some advice during the clash with the Sea Eagles.
"That little kick I put in during the second half when we got a repeat set out of it, that was one of his tips that he gave me at halftime. He really does help out."
Still short of 100 per cent, Locke can continue to provide assistance on Sunday against the Broncos, but Fisiiahi is giving the impression he is more than capable on his own.
Approaching the peak of his powers, Fisiiahi has earned the trust of teammates and Elliott, who felt it an easy decision to leave a recovering Locke on the interchange bench.
"I think the thing with Fish over the last few weeks is it's not so much the number he's worn on his back, it's what he's delivered to his teammates as far as high-level performance," Elliott said. "I've been a fan of his all year and I really see him as being a long-term member of our outside backs."
Although he was understandably gratified to hear such praise from his coach, Fisiiahi said he had given his future prospects little consideration and instead preferred to enjoy his fine form.
"I haven't really thought about it but I'm loving it at this club - the Warriors have kick-started my professional career as a player. I'm just really riding it out right now and trying to keep that consistency up.
"Whether it's at fullback or wing," Fisiiahi said, "I just want to perform well for the team."
- APNZ