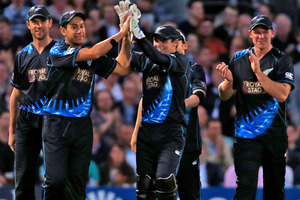 Cricket fans missed several overs of the Black Caps' Twenty20 cricket match against England this morning after Sky Sports' coverage cut out.
However the network said it wasn't to blame for the latest interruption to its sports coverage.
Viewers missed the crucial wicket of England batsman Luke Wright, who was caught by Tom Latham off the bowling of Mitchell McClenaghan for 52.
Sky Sport offered the following explanation for the loss of coverage: "Sky Sports regrets the interruption of the programme as we are experiencing technical difficulties, We are working hard to restore normal service."
Coverage of the cricket returned about 8.30am.
It comes after Sky Sports caused uproar among rugby fans after accidentally cutting to an advert during the All Black's test against France on Saturday.
In a statement, Sky apologised for the interruption, but said it was not to blame.
"This morning the host broadcaster lost the feed from the ground to the international gateway. All international feeds, including our neighbours in Australia -Fox Sport were interrupted for approximately 10 minutes while the feed was restored.
"Sky apologises for the interruption in viewing to all SKY Sport customers which was out of our control."

- nzherald.co.nz